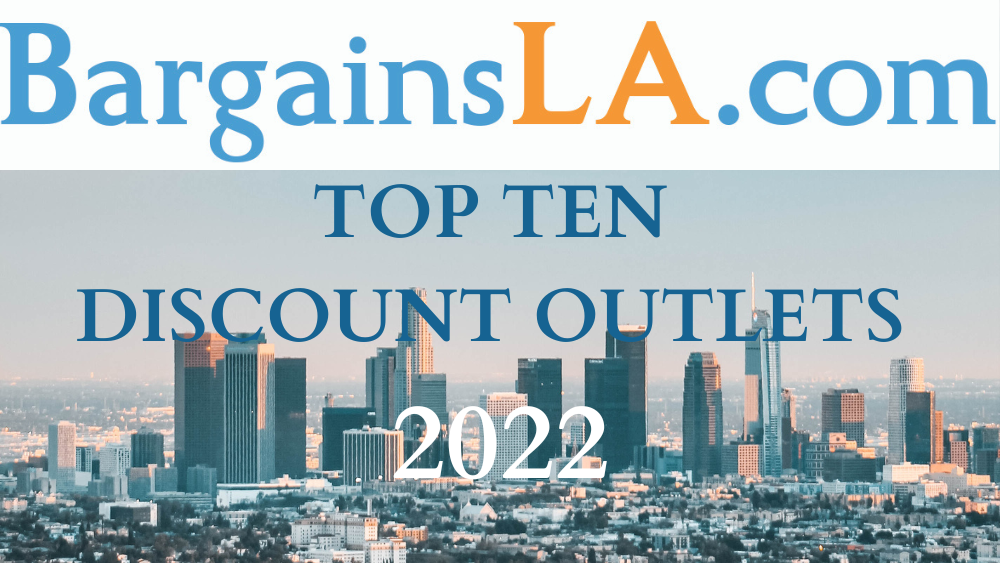 Welcome to our 2022 Top Ten "Frugal Bugle" Awards!
These  Newly Discovered Discount Outlets have discounts of 30-80% on Fashion, Shoes, Furniture, Home Goods, Electronics and Home improvement.
We reviewed over 75 new local discount outlets this year. These are the best of those.
This year, we all need to save money. Share our Top Ten Best New Discount Outlets in 2022 with your friends.
So here they are, our best newly discovered Top Ten Best Discount Outlets from 2022.
Always tell 'em BargainsLA sent ya!
___________________________________

10.
A1 Liquidator
18573 Sherman Way
Reseda, CA 91335      MAP       (818) 661-7507

A1 Liquidator sells home goods, furniture, electronics, garden, appliances, beauty items, clothing, toys, and more at 40-80% off.  Buying overstock, freight damaged, floor models, shelf pulls and customer returns by the pallet load from Sam's Club, Walmart and Target, they are able to resell these fully inspected items at much lower prices to the public.
With their "Loyalty Text Program", the discounts are jaw dropping!
Tell Ben,  BargainsLA sent ya!
9.
Bloomingdale's Outlet
21494 Victory Blvd.,  Woodland Hills CA 91367
20 City Boulevard West, Orange CA 92868
901 B South Coast Drive Suite 150 Costa Mesa CA 92626
The Bloomingdales Outlet has discounts of 25-90% on luxury designer and name brand fashions for men, women and kids as well as gift items and home decor.
This well lit, well organized, stylish outlet is about 65% overstock \ past seasons merchandise from Bloomies and 35% Special Purchase Product or designers secondary lines priced at retail market. More fun to shop than Nordstroms Rack!
Tell 'em, BargainsLA sent ya!
8.
GDF Studio Outlet
9200 De Soto Ave.
Chatsworth, CA 91311   (818) 960-8843
The GDF Studio Outlet store has discounts of 30-85% off original retail on trending contemporary home furnishings in sofas, tables, chairs, occasional tables and more.
This is the Outlet for GDF Studio furniture and parent company, Noble House. The deals here are excellent, with quality running from very good to mid- quality, averaging of 50% off!
Tell 'em, BargainsLA sent ya!
7.
Tactical 5.11 Warehouse Store
5521 Telegraph Rd.
Commerce, CA 90040
If you like REI or are an outdoor enthusiast, survivalist or fitness warrior, this place is for you!  The 5.11 Tactical Warehouse Store has discounts of 30-70% off retail on outdoor & fitness clothing, backpacks, tactical gear and accessories.
Tell 'em, BargainsLA sent ya!
6.
Apparel Zoo
5707 S. Alameda St.
Los Angeles (Vernon), CA 90058
Apparel Zoo is an outlet store that sell first quality men's, women's and kids street and skate wear branded fashions and accessories at 35-75% below retail.
Loaded with first quality goods by Crooks & Castles, Chocolate, Primitive, HUF, Supra, Cortina, Champion, Von Dutch, X-large, Kappa, Reebok, Dope, New Balance, DGK, Levi, Pink + Dolphin and dozens more. Prices for tees start at $10! Most everything is priced under $40.
Mention BargainsLA and save an additional 15% off your purchase. Plus first time customers get FREE tee shirt!!  Yup Free!!!! FREE!!!
ApparelZoo Facebook
5.
The Runway Outlet
3187 Glendale Blvd.,
Los Angeles, CA 90039                      (323) 522-6192
The Runway Outlet is a Sample Sale Boutique with discounts of 40-80% on women's designer fashions. Owner, Ali uses her good taste to curate most of her brands from sustainable labels made in Australia and Los Angeles.
This clean and bright boutique offers shoppers deals on select, one of a kind designer samples and manufacturer current overstock. All at wholesale prices! There's something delightful here for every body.
Metered Street Parking.  Tell Ali, BargainsLA sent ya!
4.
ReMart
1011 N Tustin Ave,
Anaheim, CA 92807      714-399-9270
ReMart Outlet has outstanding discounts of 40-80% on new name brand home furnishings, fashion, appliances, housewares, flooring, home decor, electronics, beauty, patio, bedding, toys and much more from Costco, Department Stores, Big Box and Manufacturers.
This large, reasonably well organized, discount outlet has a seriously massive selection and the turnover is fast here with new product coming in daily!
Open 10am-6pm daily. Free parking lot.
Tell Mike, BargainsLA sent ya!
3.
Mitchell Gold + Bob Williams Outlet
1881 Ventura Blvd.
Oxnard, CA 93036   (805) 696-2433
If you love high end quality modern Home furnishings, The Mitchell Gold + Bob Williams Outlet  is way worth the effort to shop. With discounts of 40-70% on their line of modern, quality home furnishings interior designers shop here.
This Outlet is where they sell past season, floor models, customer returns and damaged items.
Open M-Sat. 11am-6pm, Sun. 12-5pm
Tell Carlos, BargainsLA sent ya!
2.
Bazaar Liquidations
9854 DeSoto Ave.
Chatsworth, CA 91311 

Bazaar Liquidations has discounts of 30-90% on small appliances, furniture, house wares, shoes & fashion, electronics, toys, bedding & more liquidated, from Target, Costco, Amazon, Bed, Bath and Beyond and famous manufacturers. Most the inventory is priced at 50% off retail or more. Everything here is new and consists of manufacturer closeouts, open box, end of season, shelf pulls and manufacturer overruns.
With new truckloads coming in weekly, this indie outlet can get slightly chaotic. Loaded with amazing buys, it's so worth the effort.  Every visit yields an amazing deal! A gem of an outlet!
Open 9am-7pm, 7 days a week.
Cash/ CC
Tell  Alyona, BargainsLA sent ya!
And finally ….. Drum roll please….
The the top new discount outlet discovery this last year.
1.
MCM in Colors Furniture Outlet
560 E Commercial St., Unit 19
Pomona, CA  91767    (909) 656-1936 –By Appointment
Wow is the word for MCM in Colors!
With steep discounts of 40-70% off  famous name brand modern furniture, you'll be hard pressed not to LOVE everything here.
New sofas and sectionals run $600-3000 instead of $1400-7000. You can buy online or  in person.
They post a lot of current their inventory on Facebook Marketplace

This "By Appointment Only", warehouse outlet is hidden away in an old packing plant in Pomona.
I love this indie outlet and you will too!
MCMColors.com
Tell Rein, Suzanne from BargainsLA sent ya!