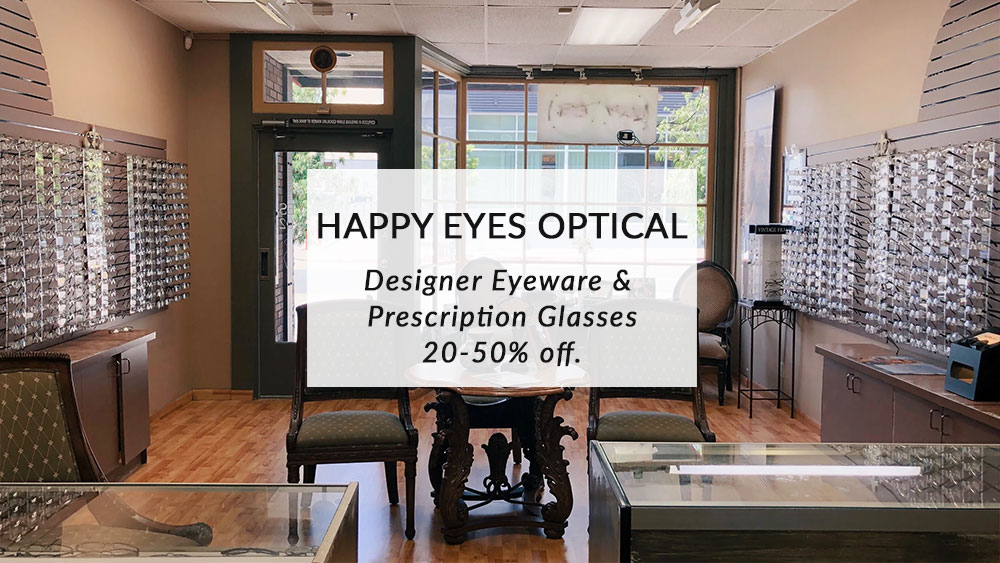 August 13, 2019
Happy Eyes is an discount fashion eyewear outlet and a real gem of a store for fashion eyewear or prescription glasses!  This eyewear discount outlet has eyewear frames that start at just $25 for non designer. Single vision lens start at $35. Bifocals start at $65 and at Happy Eyes you can get transitions lens starting at $98. He even has Blu Tech blocking at $135 instead of $250 elsewhere and Progressive lens start at $125. Many of the standard frames (Modern, Parade etc.) are in current trending styles in both metal or plastic and some come with clip ons. Happy Eyes has a large selection to choose from for the entire family…. kids too!
Happy Eyes also has a good selection of designer frames and sunglasses at prices 30%-40% below suggested retail. Paul Smith, O & X New York, Prada, Dolce & Gabbana, Versace, Silhouette, Jimmy Choo, Swarovski, Geek, Oakley, Adidas, Norma Kamali, Persol, Ray Bans, Kensie, Fendi, Juicy Couture, Harve Bernard, Nina Ricci, Jill Sanders, Armani, Calvin Klein, Guess, Kate Spade and Geoffrey Bean can be found here at substantial savings… or Happy Eyes can also special order your frames at a discount .
Owner, Tony Sarkissian has a high standard of service. Some prescriptions can be filled on the spot, some Tony spends a little extra time on. Tony can fill any prescription from basic reading to the highest technology Line Less lens or variable focus lens, for less and he guarantees all his work. He'll also do mail order, so you can email in your prescription, mail in your glasses, and he'll send them right back to you.
We highly recommend and regularly visit this discount fashion eyewear outlet. Happy Eyes is the best! Make sure you mention BargainsLA.com to get the absolute lowest pricing!
One of our Best Bargains!
Happy Eyes Optical
114 E. Wilson
Glendale, CA 91206
(818)246-2202
Tell 'em BargainsLA sent ya!
MC/VS/AX/DS/Cash/Checks
Hours: M-F 10-6, Sat. 10-5, Closed Sunday
Free parking in the rear (Exchange Building)
Metered Parking lot around the corner.
HappyEyesOptical.com ( Check website for coupons and specials)