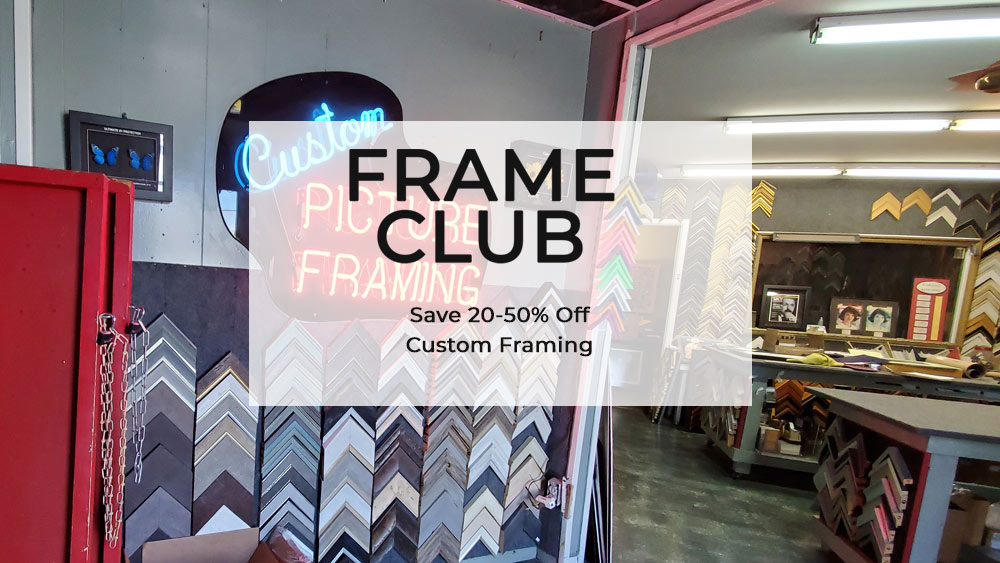 January 30, 2023
Need your collectable artwork framed? Then take them over to The Frame Club. Here's where you can go  for Quality Art Framing at low low prices.
We've used Frame Club for years and have  consistently found low prices, excellent service and high quality work.
In business since 1982, owner Alona Crawford has employed three basic principles to keep prices at 30%-60% lower than other framing sources. Do all the work in-house, deal with local suppliers and services to hold down costs and locate in a low rent district.
The neatly organized wall displays of molding and mattes can be mind-boggling, but when you get stumped, Crawford is there to lend her expertise. But you can play with the samples here to your hearts content.
The wide range of framing styles that Frame Club tackles includes posters, textiles, photos, oils, preservation and museum quality artwork. Whether your tastes run to elaborate patterns in moldings or simple metal or Plexiglas frames, it's all here at a price that won't blow your budget.
Ask for the super discounts on remnant moulding in the back room. Here you can save an additional 40-60% on a big selection of overstock moulding.
In a rush? Same day service is available at no extra charge.
Quality Art Framing for less. Frame Club prices consistently come lower than anywhere else.
One of our Best Bargains!
The Frame Club
11000 Sherman Way
North Hollywood, CA. 91352
(818) 982-1122
Major Credit Cards/Cash/Checks
Hours: M-F 10-6, Saturday 11-5, Sunday 12-4.
Parking on street or in back.
Visit Site: Frame Club