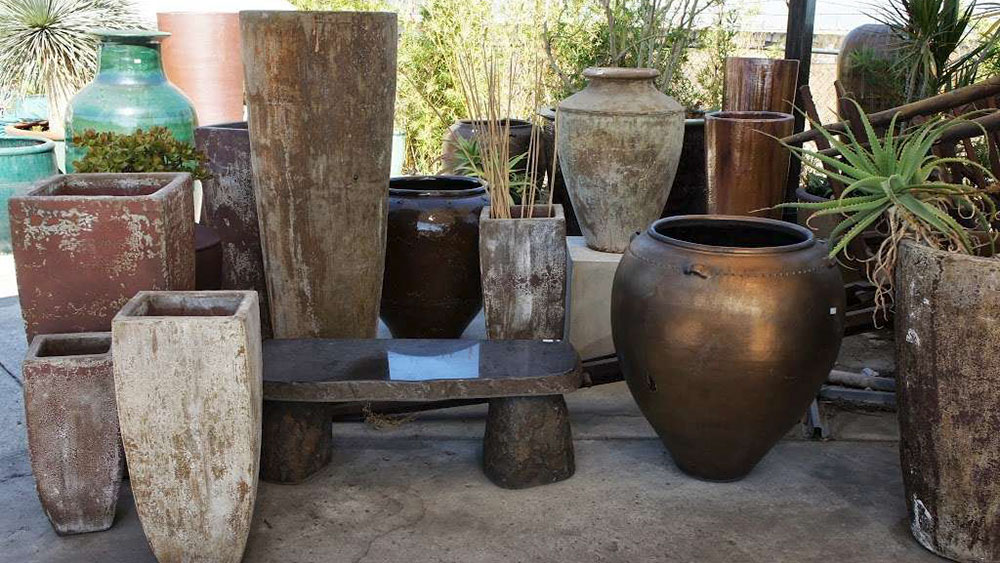 September 16, 2020
Ceramic Manufacturer Outlet, Asian Ceramics will save you 25%-80% on ceramic planters, pots and more in overstock, seconds and damaged product. These ceramic pots are handmade hand glazed in Vietnam and China using centuries old techniques. No mass made product here. You can see a video of the process in their lobby.
Usually selling only wholesale to landscapers, developers and designers, the retail outlet area is outside in the yard. Yellow stickers are seconds and 50%-70% off original retail and white stickers are wholesale 25%-50% off of retail.
If you've been pricing decorative landscaping pots and planters you'll see the savings immediately. Stellar buys included a large tree sized glazed pot for $79. I have priced these at $150-$180. An Oval tree sized glazed ceramic pot was $89 instead of $160.  Some gigantic 5' tall second planter pots were $199 instead of $500. A big square planter was $149 instead of $200 and a large glazed pot was $32 instead of $65-$70. 
Some smaller ceramic pots were $5 instead of $15 and a small square Asian themed pot/ vase was $6 instead of $18.  An 18" rustic distressed pot was $19 instead of $40. A larger round pot was $58 instead of $100.  Pus, if you are buying more than a few pots, they will give you even steeper discounts
You'll  also see lots of  interesting, upscale, estate, hotel ceramic pots here at wholesale direct pricing. Make sure to bring a hat, gloves and sturdy shoes so you can take your time to hunt through the inventory. But before you shop their yard, they like you to check in at the front office.
If you're working on a landscaping or gardening project, shop this Ceramic Manufacturer Outlet first.
Mention BargainsLA to save an additional 10%.  You'll save a bundle here!
Asian Ceramics
2800 Huntington Dr., Duarte 91010
(626) 449-6800
Saturdays is their public "Warehouse Sale" day (9am-1pm)
Open M-F 8am-4 pm to the trade, but if you're desperate call first to see how busy they are..
Cash/ CC/ Ck
Tell em BargainsLA sent ya!
MAP