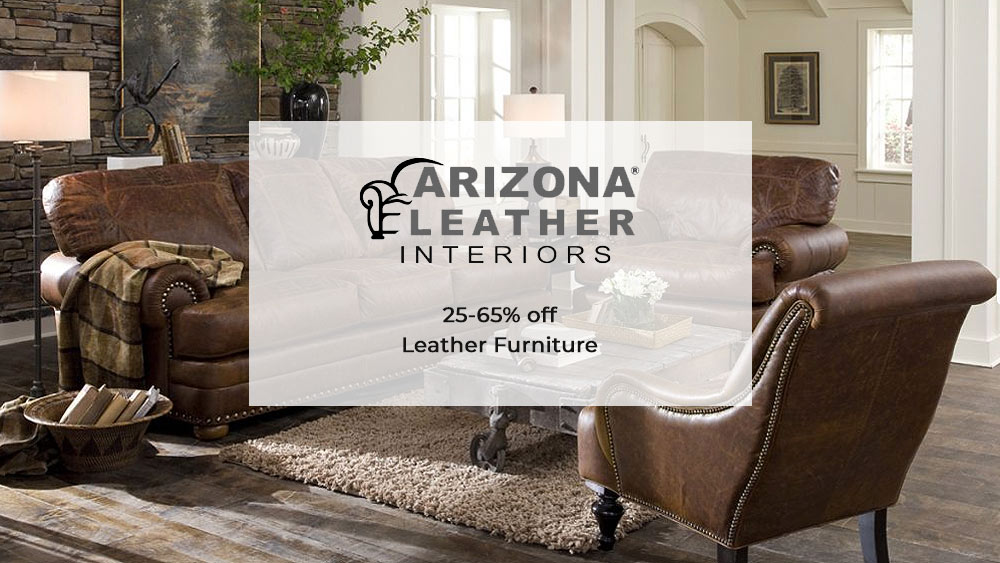 November 07, 2019
If you love quality leather furniture, look no further than Manufacturer Furniture Outlet, Arizona Leather Company Clearance Outlet. Famous for their high quality, American made, leather furniture, it's at the distribution clearance outlet that you'll save 30%-60% on floor models, customer returns, discontinued samples and overstock. But, like most furniture outlets, here you buy off the floor.
And what you get, is a great deal on high quality, leather furnishings. Arizona Leather furniture is made from kiln dried hardwood frames.  This old school construction is cornered block and doweled.  Yes, they use 100% top grain leathers. Backed by a lifetime warranty, you won't find split grain or Naugahyde. Literally, this is just about the highest quality leather furniture you can buy.
But the savings here will make you smile! Like a Winchester sectional in slightly distressed Nubuck leather at $2899 instead of $4598. An 8' camel back sofa with nail head trim, was priced at $1699 instead of $2374. And a stunning 3-piece set including a 10' modern sofa similar in design to Natuzzi, a slipper chair and an ottoman would normally run $4799. Here it's $3049. An estate sized sectional sofa that was 11' x 11', with down filled cushions was a sweet deal at $4999 instead of $7597.
So some sectionals and sofas have recliners built in. One recliner piece had a mix of tapestry fabric and leather. A 6 ½ foot, apartment sized leather sofa and would normally sell for $2074. But, this one was marked $899…. A 57% savings!
You won't find disposable furniture here. Just high quality leather furniture that will last a lifetime… for a lot less. Those of you, who relish quality and value, will find the Manufacturer Furniture Outlet, Arizona Leather Furniture Outlet exceeds at both.
One of our Best Bargains!
Arizona Leather Furniture Outlet
4235 Schaefer Ave.,
Chino, CA 91710
(909) 393-6776 x 119.
Hours: Th./ Fr./ Sat./ Mon 10am-5pm
Sun: 11am-5pm
Parking lot
CC/ Cash/ Checks
Visit Site: Arizona Leather