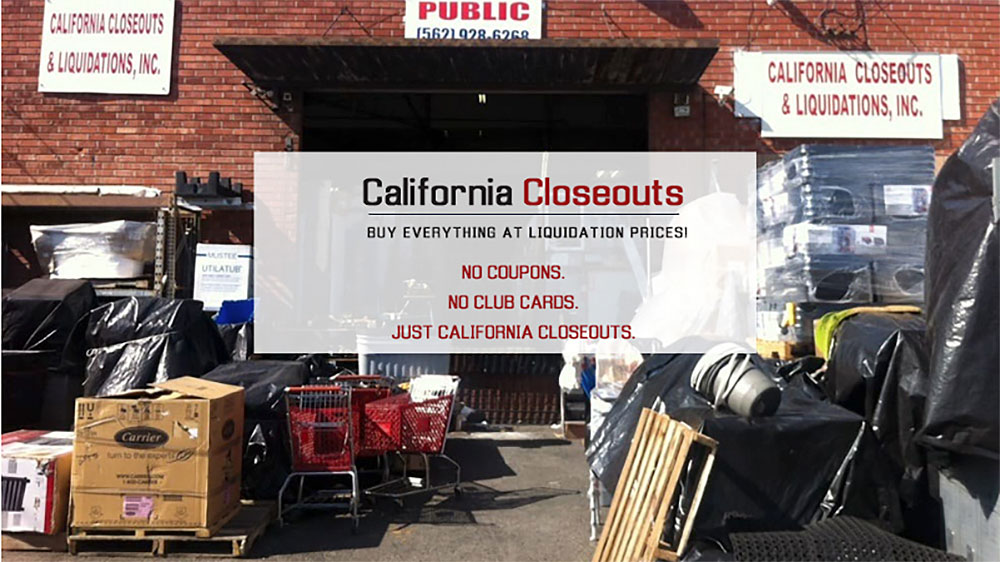 August 05, 2021
General Merchandise Liquidation Outlet, California Closeouts and Liquidations sells manufacturer closeouts and liquidated merchandise to the public at 40%-80% below original retail.
Covering just about every category imaginable, California Closeouts is set in a warehouse with surprising deals hidden in every nook and cranny. Housewares, apparel, office and school supplies, toys, home décor, hardware, pet supplies, grocery, auto and electronics can be found here. Each visit will yield a new and different deal.
A recent visit yielded some amazing buys….A Proctor Silex 12 cup coffee maker was only $12.99. Some dishtowels were $.99, and thick fluffy bath towels by Martex were $4.99. A Homelite Trim N' Hedge was $75 instead of $130 and some Krups carafes were spotted at a mere $3.99. Just beyond was a somewhat cluttered section with tons of housewares and sundries: A Conair bathroom mirror was a steal at $9.99. These regularly go for $19-$35 in stores. Some Polident toothpaste was near half off at $1.99 and an EvenFlo manual breast pump at $14.99. The food section also has deals on tea, mustard, dressings, tomato juice and a variety of canned goods all at $.99 or less. You 'll even find great buys on bathroom basics like Mylanta mint at $.99 and toilet paper (12 count) at $3.49.
Every corner you turn has some new deal. Some tee shirts that originally retailed for $38, where here at $1.99. Men's Wrangler shorts are $4.99. Some exterior windows by Master View ran $59-$139. These also had a few cosmetic scratches. I even saw shovels for $4 and Konig set of 4, light alloy wheel rims for $299.
California Closeouts and Liquidations has something for everyone. There are so many deals  at this General Merchandise Liquidation Outlet that this should be a place you regularly haunt.
One Of Our Best Bargains!
California Closeouts and Liquidations
6300 Chalet St.
Commerce, CA 90040     MAP
(562) 928-6268
Hours: M-F 9am-5pm, Sat. 9-5, Closed Sunday
Parking lot/street parking
Cash/CC