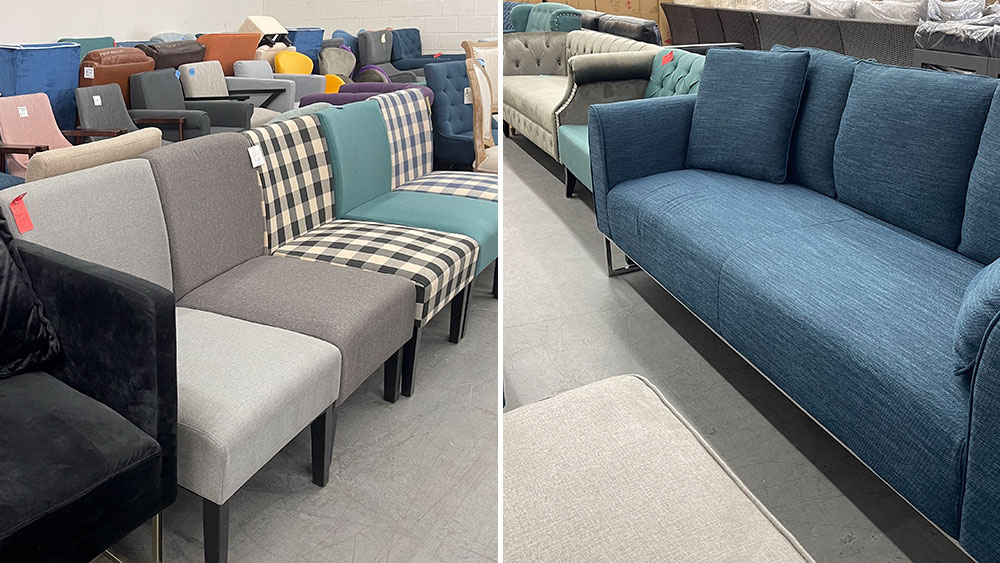 May 03, 2022
The GDF Studio Outlet store has discounts of 30-85% off original retail on trending contemporary home furnishings.
This is the Outlet for GDF Studio furniture and parent company, Noble House. The deals here are excellent, with quality running from very good to mid- quality. A lot of product was like Amazon or Wayfair in quality. But at an average of 50% off, it's much better deal.
 
Most items are in excellent condition. Didn't see much of what I would consider to be a customer returns. Most items looked like samples or a discontinued line. We immediately honed in on the egg basket hanging patio chair. At $281, it's 30% off the retail of $504. An 8 x 10' area rug was $70 instead of $120. Some wooden patio chairs ran $48-69. Some modern wicker chairs were $95 each instead of $270.  A round, wood rustic coffee table was $80 instead of $197. A Mid Century Modern style 3 seater wood frame sofa that was $675 is $320 here in several colors. A tufted linen chair that would retail around $470 is $171 here. A green velvet side chair was $137 instead of $356. Some woven floor Poofs were $30 instead $70-90.
Dining chair were plentiful. Lots of one and two's of a kind. French style oval back linen dining chairs were $55 instead of $300. A gold and glass side table was $45 instead of $170 and a MCM wood side that was just $38 instead of $102.
Nice selection here, pretty well organized, with a fast turnover.
However, this outlet is a bare bones operation. Don't count on a helpful staff. We weren't greeted once and had to walk up to a window to get any help.
They won't hold anything or help you load. They do have a delivery service for an extra fee. Be prepared.
Here, your only objective is the deal. Intrepid, self sufficient, smart shoppers will score!
GDF Studio Outlet
9200 De Soto Ave, Chatsworth, CA 91311
(818) 960-8843
Open: M,W-Sat. 9am-6pm, Sun. 9am-5pm, Closed Tuesdays.
Tell 'em BargainsLA sent ya!