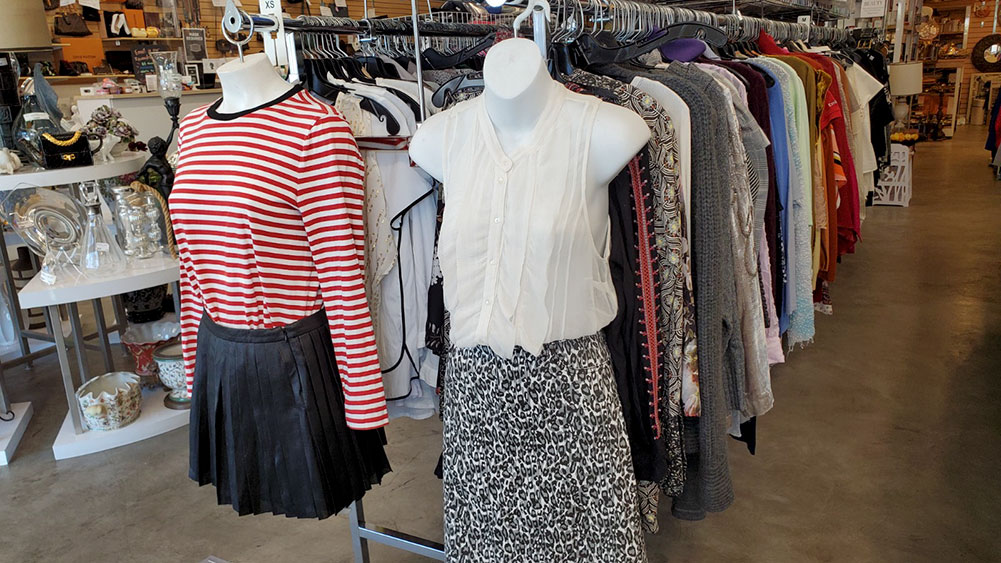 October 03, 2021
OMG ! Resale boutique, Trove is packed with women's designers fashions, home décor and gift items all at pricing that will keep you coming at 60%-95% off original retail!
Find Gucci, Chanel, Calvin Klein, Theory, Nine West, Stuart Weitzmann, Steve Madden, Mossimo, Emilio Pucci, My Tribe, Diane von Furstenberg, Top Shop, Ann Taylor, Halogen, Free People, Madewell, Roxy, Banana Republic, Citron, Nanette Lepore, as well as children's apparel, some mens and a really incredible collection of home décor, china, accent furniture and gift items.
I like to cruise the sales racks in the back of the store first. But additional discounts are storewide with weekly color tags that have additional discounts of 20-50% off. You'll find a great selection of everything from shoes to workout wear to evening wear.  
Women's Sandro wide leg trousers was $54.99 instead of $195. An Open Ceremony knit tank was $35 instead of $130. A super cute vintage Marni Polka dot skirt was $59.99 instead of $140. A JohnnyWas silk boho top as $64 instead of $185. A classic Vince mock neck silk blouse was $49.99 instead of $200. A vintage (1960's) blue wool coat was a steal at $35. A Juicy Couture polka dot blouse was just $14.99. I was enamored with an elegant Social Thread pleated dress for $49, a Vivianne Tam silk skirt dress for $50 and a Coach wool jacket for $70 instead of $300. 
Accessories are plentiful with fashion jewelry, shoes, scarves and handbags everywhere. Some velvet Neiman Marcus evening pumps were $34.99 instead of $180. An amazing leather Coach shoulder bag was $49.99. A Prada kitten heel pump was $99 instead of $ $850.  Some Frye Motorcycle Boots were $120 instead of $240 and some Report fringed booties were $14.99.
The home décor is fun with exceptional buys in crystal, china, art, gift and accent furniture pieces. A large Italian hand painted bowl was just $20 and some Lennox Blue Trees plates were $12.50 each.
Join their rewards "point" program and build up points for additional discounts. Mention BARGAINSLA and get an additional 10% off your purchase. Yeehaw!
You won't encounter any Westside snobbery at this resale boutique. Trove is a GREAT resale boutique with stellar deals! An absolute must shop store!
Trove
2008 Westwood Blvd.
Los Angeles, CA 90025   MAP
(424) 256-2861
Hours: M-Sat 11am-7pm, Sun. 11am-6pm
Free Parking lot.