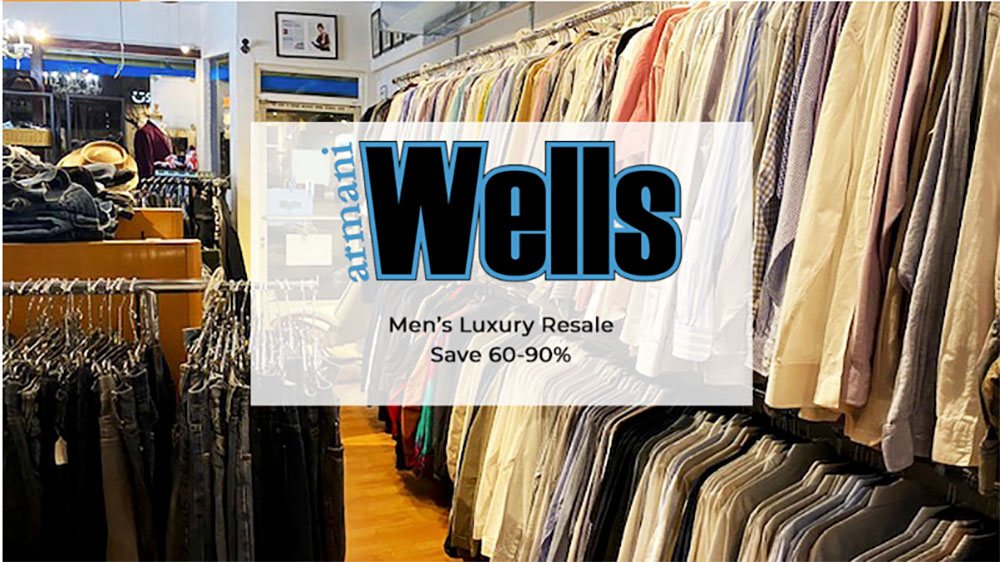 April 17, 2020
It's well-known that Men's high-end resale boutiques are a rare commodity. Happily, we have one of the very best right here, Armani Wells. This By Appointment Only, Men's high-end resale boutique Studio City,  has been selling higher end men's designer apparel for 60-90% below retail for years.
After 29 years, owner Claudia Wells is able to select only the best in luxury, higher end designer apparel. Using her discriminating taste and cutting edge fashion sense, she quickly pulls unique items for her clients and helps them develop their perfect look.  So, the basics are as abundant as the designer couture items. As a result, this tiny Men's high-end resale boutique store is packed with  fashion goodies.
Plus, here's the fabulous thing about this store. You get full personalized styling service with every appointment for FREE and the designer clothing is all 60-90% off original retail… How very cool!
The longevity of this Men's high-end resale boutique store has a lot to do with the both the quality and the sought after designers available here. For example, Giorgio Armani, Gianni Versace, Bijan, Tod's, Bruno Magli, Paul Smith, D & G, Fendi, Canali, Brioni, Borelli, Kiton, Prada, Gucci, Ermenegildo Zegna, Vince, Aisai ,John Varvatos, Hugo Boss, Theory, Tom Ford, Rag & Bone, Zilli, All Saints, Bottega Vanetta, Dolce and Gabbana, Scotch & Soda  and more! Think Rodeo drive in Beverly Hills. Everything here is clean, new, near new or in mint condition.
Like all resale stores, there's a lot of "one-of-a-kind". But there is enough selection here to fit any size (34 short to 52 long) and any style (conservative to urban hip). Although, nothing here is cheap, the bargains are simply outstanding. So, an Yves St Laurent finely tanned lambskin jacket retails for $1100. But here it was $275. A Neiman Marcus cashmere argyle sweater was $85 instead of $400. An outrageous Jean Paul Gautier dress jacket was priced at $385 instead of the original $2500. A Giann Franco Ferre suit was also a steal at $385 considering new its $2300. A Barney's New York button down shirt was only $38. A Canali 3 piece suit was $475. Retail would have run you over $1200. A Reyn Spooner Hawaiian shirt was $55.
It's very Covid safe here since it's by appointment only. Masks required, everything is sanitized regularly and an air purifier is always running. Claudia has a passion and love for styling men and understands men have the birthright of dignity. That is how she styles them, for confidence elegance and current fashion style.
Armani Wells is a one stop shop for stylish guys who like to look great and keep most of their paycheck in the bank.
One of Our Best Bargains!
Armani Wells
12404 Ventura Blvd.
Studio City, CA 91604.
(818) 985-5899
Full service style consult is By Appointment Only through her website Armani Wells
Street and rear parking.
Tell her BargainsLA sent ya!