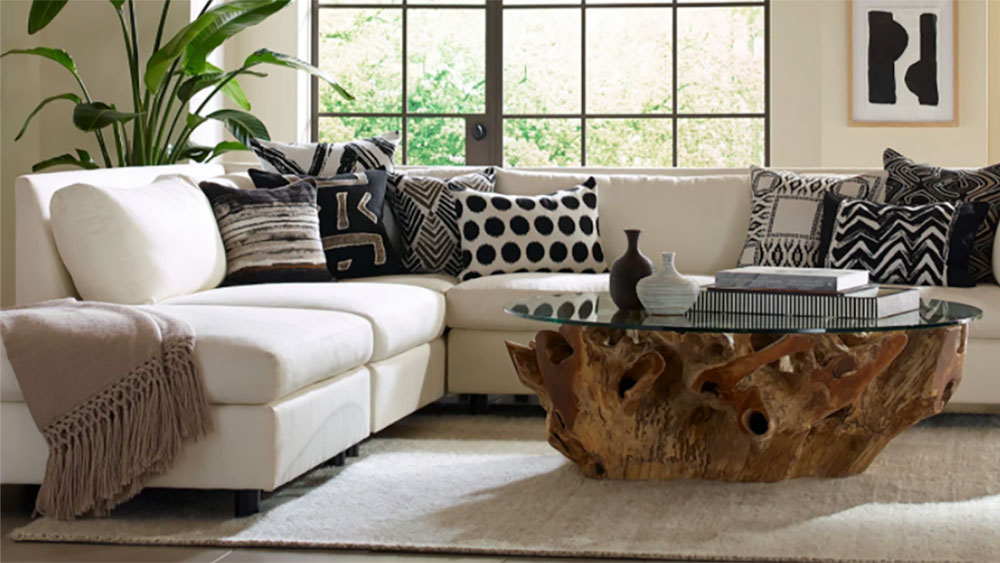 January 16, 2022
The Mitchell Gold + Bob Williams Outlet has discounts of 40-70% on their line of modern, quality home furnishings.
If you're into interior design, you know this brand is famous for their high quality, cutting edge, upscale home furnishings. Their Outlet is where they sell past season, customer return and damaged items.
Clean, well organized and bright, the selection here is excellent! 
As you enter, note the steepest discounts are at the rear of the store. This is where the Final Sale / damage items are. Some pieces are a definite, no.  But many have flaws that do not effect anything. At 70% off, it's worth a look!
I loved a yummy Hunter sofa. Priced at $999, it was 75% off the original $4146. The Pickett Leather / Mohair side chair was a steal at $999 instead of $3740. Some modern, classic Winley Arm wood arm chairs were $149 instead of $500. A Tribeca marble to modern side tale was $499 instead of $1975.
Most of the first quality, over production pieces were 40%-60% off original retail
An incredible Laguna (MCM style) media console was $1462 instead of $2925. A red velvet Arlen recliner was $1402 instead of $3507. A studded, linen, tufted arm chair was $1806 instead of $3010.  A cream linen sofa was $2395 instead of $3962. A chrome/ marble top round dining table (base and top sold together) was $2000 instead of $3500. A mod chrome and leather rocking chair is $1944 instead of $3240 and a fabulous green, 2 pc sectional  was $7000 instead of $11,500.
Rugs were here as well as throw pillows, lighting and home decor.  A shimmer sterling 8 x 10′ rug was $1160 instead of $2900 and the Amelia Pewter 8 x 10′ rug for $1608 instead of $2680.  The Razz Pendant brush nickel suspension lamp was $572 instead of $954 and a Portofino Chandelier was $3200 instead of $6400.
What makes this outlet a standout is that they bundle deals!
If you purchase 3 items, it is an additional $10 off, 4 items is an additional 15% off and 5 or more items save an additional 20%! That includes accessories, pillows and decor. Buy a sectional add in 2 pillows and your at the 10% off level.
This outdoor mall also has 3 other home furnishings outlets here including Restoration Hardware outlet and Design With Reach, (both previously reviewed on BargainsLA)!
Delivery is done through a 3rd party. If you're a frugal buyer, rent a van, get a buddy and move it yourself to save even more. Financing available thru Affirm.
The Mitchell Gold + Bob Williams Outlet is a great furniture outlet for high end home furnishings and the Manager, Carlos is as nice and helpful as they come.Would you drive an hour to save thousands and have a huge selection at outlet prices?  Ya… me too!  This is destination shopping at its very best!
The Mitchell Gold + Bob Williams Outlet
Market Place at Oxnard
1881 Ventura Blvd., Oxnard, CA 93036
(805) 696-2433
Open M-Sat. 11am-6pm, Sun. 12-5pm
MGBWHome.com/Oxnard-outlet
Tell Carlos, BargainsLA sent ya!