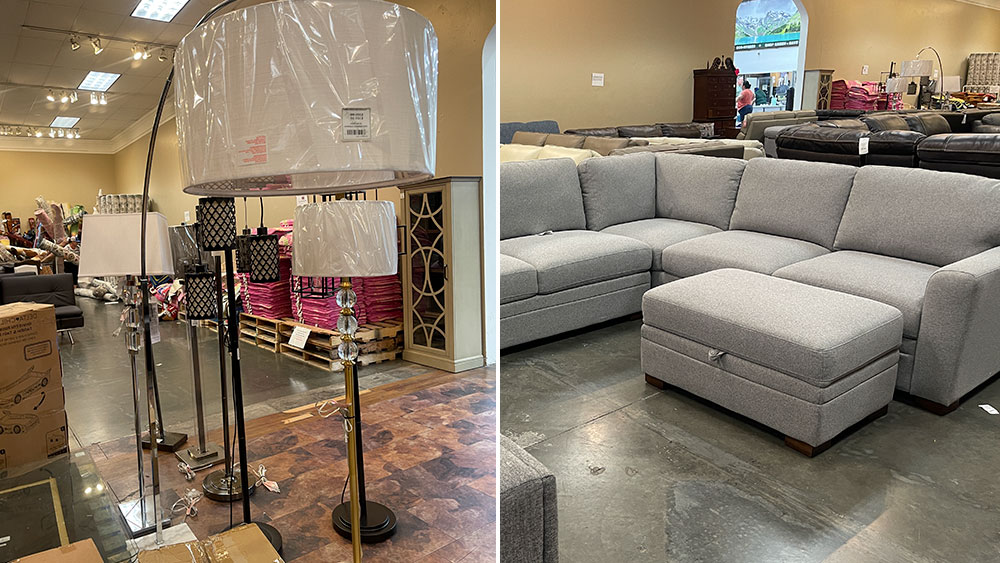 August 16, 2022
ReMart Outlet has outstanding discounts of 40-80% on new name brand home furnishings, fashion, appliances, housewares, flooring, home decor, electronics, beauty, patio, bedding, toys and much more.
ReMart buys up excess product by the container from Costco, Department Stores, Big Box and Manufacturers and then resells them at fantastic savings. This large, reasonably well organized, discount outlet has a seriously massive selection and the turnover is fast here with new product coming in daily!
Hot buys during my visit included LG Room 10,000 BTU air conditioner for $279 instead of $559. Adjustable sit / stand Tresanti desks with fast phone chargers were $169 instead of $420. A ceiling fan / light was $329.99 instead of $657. A smaller 4.5 cubic foot fridge was $159 instead of $323. A Tommy Bahama down lightweight king comforter was $37.99 instead of $75.99 and a White Goose Down feather & down king size comforter was $56 instead of $112….that is the best prices I've seen anywhere on down comforters, ever!
Other surprising items include some luxury beauty items, like a Nu Face Trinity facial toning device plus gel for $169 instead of $336. Night Hyaluronic Silk Face Masks were $20 instead of $41.99. PMD Daily Cell Regeneration Serum was $83 instead of $195.
But there's so much MORE!
Ring video door bell was $109 instead of $238. Hotel Signature Full set of 100% cotton sheets were $62 instead of $125. A Brookstone Heated blanket was $63 instead of $126. A Inspire FTXC training bench that retails at $1960 is $979. Some Kirkland golf putters were $99 instead of $209. Cascade Complete dishwasher soap was $9.49 instead of $20. A Simply Human soap dispenser was $28 instead of $56 and a Moen Cadia Touches MotionSense kitchen faucet was $169 instead of $350.
There are racks and racks of name brand clothing in every size imaginable here.
And a large room of furniture with a marble table lamp at $49 instead of $209. A Buckley cream leather sofa was 4623 instead of $1260. A 3 seater, mod tan leather sofa that was $4620 is here at $2300 and a sleek, modern Artik Andalee ceiling lamp was $98 instead of $195. THere's are also bins of bedding and home accessories.
Having covered this outlet before, I honestly forgot how awesome it is. Seriously!! One of the best in the L.A. area.
They have a crack staff that are willing to stop and happily answer your questions. They also have a 90 day return policy, pay your sales tax on single purchases over $99 and give 100% satisfaction guarantee! WOW!
ReMart is a great discount outlet and a must shop for quality products at  some stunningly low prices.
ReMart
1011 N Tustin Ave,
Anaheim, CA 92807
714-399-9270
Open 10am-6pm daily.
Free parking lot.
Tell Mike, BargainsLA sent ya!