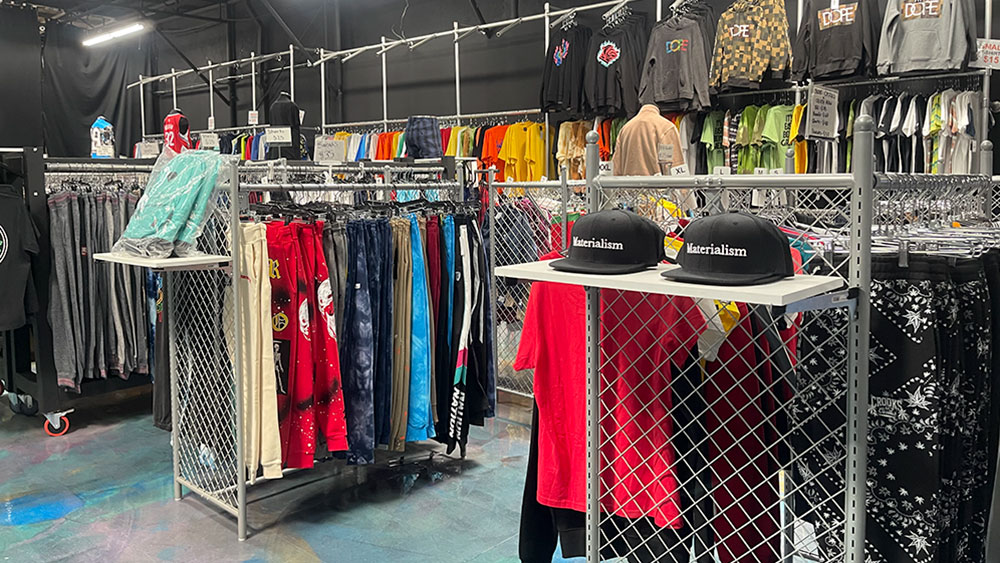 June 20, 2022
Apparel Zoo is an outlet store that sell first quality men's, women's and kids street wear and skate wear branded fashions and accessories at 35-75% below retail.
Hidden away in an industrial area of Vernon, you could drive by and not notice this incredible, super cool outlet. But you'd really be missing out.
Loaded with first quality goods by Crooks & Castles, Chocolate, Primitive, HUF, Supra, Cortina, Champion, Von Dutch, X-large, Kappa, Reebok, Dope, New Balance, DGK, Levi, Pink + Dolphin and dozens more. Most of the store are mens items with a rack of kids and some women's items scattered throughout.
Prices for tees start at $10! Most everything is priced under $40.
Crooks & Castles hoodies were $25 instead of $88-100. Chinatown sweats & hoodies were $40 instead of $95-$130. Quicksilver hoodies were $25 instead of $55-66. A Karl Kani outdoor jacket that was $285 was here at $40. Embellish Jean jackets that were $150 were $40. Mitchell & Ness sport tee were  $25 (Retail $40-80) and crew necks were $30. Elwood pants were $35 instead of $70. Design by Humans kitty tee was $15. New Balance tees were $15. Pink Dolphin LS jerseys were $15. Champion women's jackets are $25.
This outlet store is well organized, easy to shop with a great vibe. They have try on rooms and offer FREE arcade video games to play. The staff here is helpful and their cool positive attitude creates a great atmosphere.
And here's the ZINGER!!
Mention BargainsLA and save an additional 15% off your purchase. Plus first time customers get FREE tee shirt!!  Yup Free!!!! FREE!!!  They don't let you leave until you've picked out a free tee!  I got the Design by Humans cute Kitten Tee and bought "the dude" an Embellish jacket for Fathers Day.
So much fun shopping here! You'll love it!
Apparel Zoo
5707 S. Alameda St.
Los Angeles (Vernon), CA 90058
ApparelZoo.com
Free, gated parking Lot
Cash/CC/ Square
Open: Friday 10am -6pm, Sat/ Sun. 8am-4pm.
Tell 'em BargainsLA sent ya!