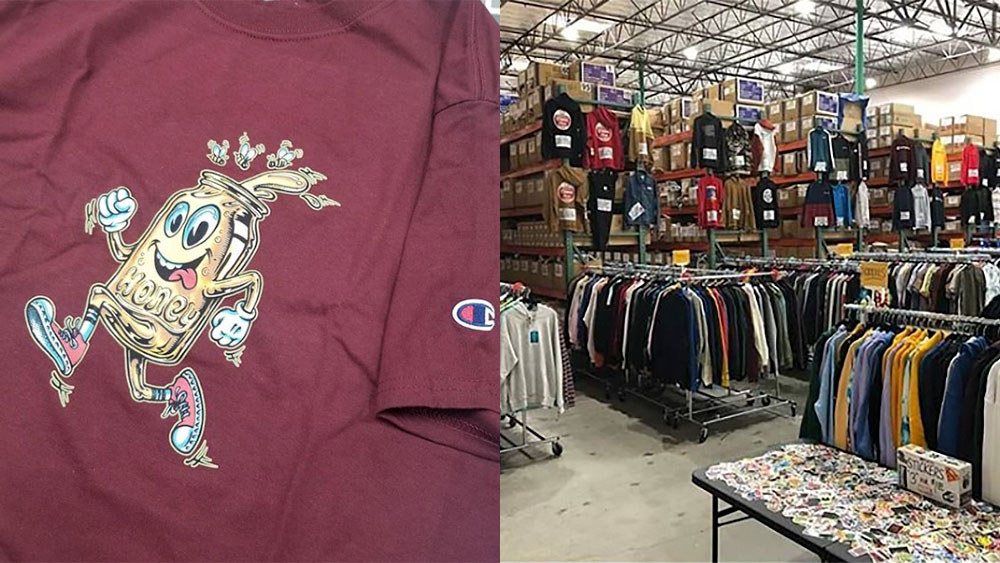 Getting out discovering and researching a new Urban Clothing Warehouse Outlet is always delight. Now, having been cooped up for months, it was positively awesome!
My enthusiasm must have shown as I walked into Warehouse #2 in Santa Clarita. I was quickly greeted and given a basic run down on how this Urban Skate Clothing Warehouse Outlet worked.
Warehouse #2 liquidates cutting edge street / skate / urban fashion brands like adidas, Brickline, Brixton, Broken Promises, Girl, Huf, Daimond, Chocolate, American Baller, No Hours, Champion, Crooks & Castles, Grizzley, Grand Derby, Honey, Nike, Primitive, Trasher, Carrots, Affliction and more.
Only open 4-10 days a month,  they announce their openings on their Instagram page. Packed with tees, tops, sweats, hoodies, jackets and shirts for guys and gals, you'll save 40-80% here.
Basic pricing runs as follows:
Stickers $1
Magnets/ Key chains $2
Socks, Hat pins, Wristbands $3
Tees, tank tops, hats, beanies, belts, underwear, $10
Long sleeve tees $15
Fanny packs, sling bags, slides/ sandals $20
Hoodie sweat shirts, sweat pants, joggers, shorts $25-$35
Jeans, chinos, jackets & shoes $30-$40
Many items are hung on hangers or you have to ask for styles on the walls but they also have lots of organized, labeled bins you can dig through. Family run, everyone here was friendly & happy to be helpful.
Highlights include mens swim trunks that retailed at $48 for $10. Crooks N Castles zip up hoodie was $40 instead of $80-90. Brixton Sweat pants were $30. Brixton jean jacket was $30 instead of $89. Chocolate tees were just $10. Broken Promises Tees were $15 instead of $25-$32. A Primitive Jacket was $40 instead of $89. Sizing goes from XS to XXL
Hidden at the back of a business park, there are no street signs for this warehouse, just a small door with a sign that says Warehouse #2. But the word is out and die hard urban brands skate fans line up to shop here. It's like a secret shopping club.
Open 4-10 days a month, they announce on their Instagram page when they will open. They are following all Covid-19 parameters, so wear your mask.
This is a Urban Clothing Warehouse Outlet. Organized with steep discounts on coveted street wear. Sweet savings!
Warehouse #2
25000 Avenue Stanford
Santa Clarita, CA 91355 MAP
Facebook:Warehousenumbertwo
IG: warehousenumber2
Cash/ Square payments only.