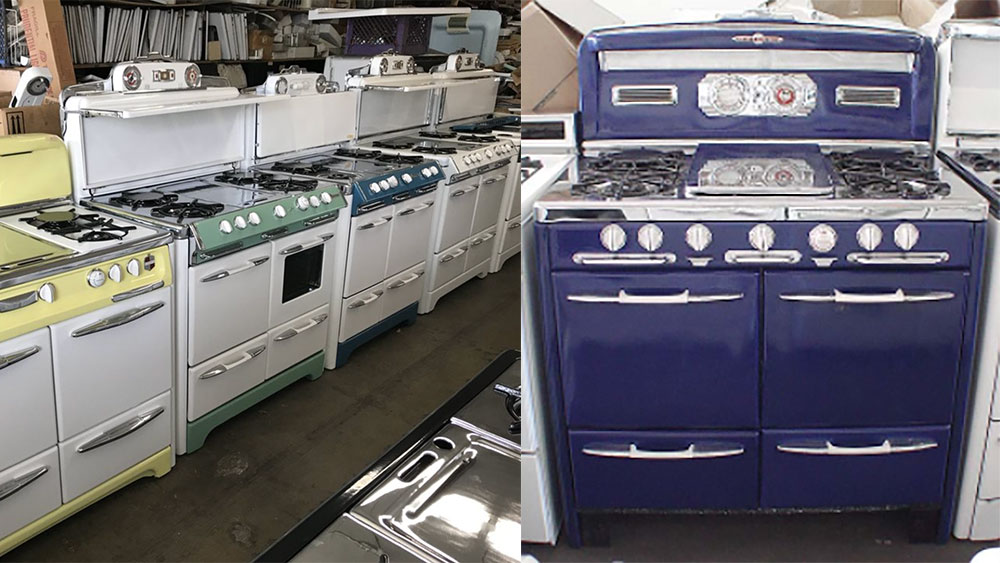 April 13, 2022
Savon Appliance has been around for decades selling quality, used appliances at 30%-70% off the original price. You'll find Maytag, Whirlpool, Kenmore, GE, O'Keefe and Merritt, Wedgewood, Amana, Frigidaire, and more. Appliances sold here are completely reconditioned and work like new.

You'll find classic, beautifully restored Wedgewood and O'Keefe and Merritt stoves here. Fully reconditioned, re-chromed, re-porcelain and re-calibrated, they were not cheap at $1500-6500. I have seen them in seriously battered condition for $300-$800. The market price for a completely restored classic stove runs as high as $10,000. Here they are less.
Most used washer / dryers matched sets ran $400-650. Used refrigerators ran $275-600 and standard, 4-6 burner used stoves went for $150- 350.
Scanning the store, I zoned in on a 1980's Maytag washer & dryer set priced at $500. A slightly newer, Kenmore washer dryer set was $450. Unfortunately, older appliance models are built better and last longer than newer models. Therefore, they are priced higher.
The proprietor Marsha, is always on hand. She will tell you the absolute truth about each appliance. Marsha is looking out for you, the consumer.
Savon Appliance can also restore your classic stove, replace parts and do repairs.  Included is a 90-day warranty and a one-year, free service house call.
So, here you get good prices on reconditioned, restored and used appliances. Plus a super, "in the know" store owner makes this a "must stop" if you are in the market for an appliance… new or used.
And the education you get, will empower you to make the very best choice.
Savon Appliances
2925 Burbank Blvd.
Burbank, CA 91505    MAP
(818)843-4840
Hours M-F 9am-6pm
Sat. 9am-5pm
Sun 10am-4pm
Tell 'em BargainsLA sent ya!