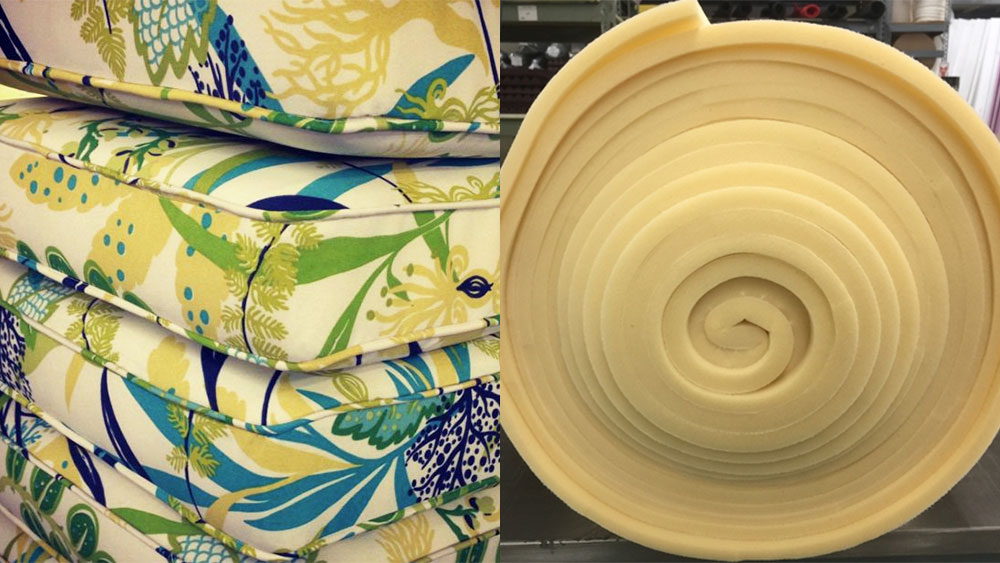 February 22, 2021
Upholstery supplies outlet, Foam Mart is a one stop destination for upholstery supplies in foams as well as fabrics, feather inserts, latex mattresses, insulation, craft and memory foam.
At this family run business, you'll find  upholstery products, stuffing, crafts and construction projects. Around since 1963, pricing here runs the gamut. From market to 70% below, with most items at market or slightly below if you're buying in small quantities.
The real reason to shop here is their expertise… and they carry hard to find, unique items with no minimums. If you need cushions re-stuffed, re-upholstered, fixed or don't know what you need this is a great place to start. The sale staff is great, knowledgeable, fun and the turn around is fast.
Here, if you're buying any kind of foam there is no minimum order…. But, you'd get a better price if you buy in volume. The more you buy, the more you save.   If you buy a "pallet" of product it's less than "wholesale". Large quantities will give you the "trade only" prices and then there is retail prices for small projects.
My most recent visit was to get product, help and insight to reupholster 120 year chair seats.  I needed foam, strapping, Dacron wrap and fabric. After an expert consultation from Andrea, I picked high density 1" foam, 10 yards of strapping and 5 yards of fabric. I decided not to do the Dacron wrap.
But, the steal of a day here was 5 yards of red & white ticking fabric for $1 a yard. Their regular price was $8.99 a yard… About $11.99 in the downtown LA textile district. Perfect for my chairs, I grabbed ALL of it.
Other solid buys include Burlap at $4.99 a yard. Cambric bottom cover fabric was $2.99 a yard. Quality Vinyl was $15.95-$17.95 a yard. Embossed Crock in a variety of colors was $24.95.  Memory Foam toppers start at $127. Duck down pillow inserts run $10.50-50.00. They also do custom upholstery.
I can't say enough nice things about this great upholstery supplies outlet. So happy, I went back!
Foam Mart
628 North Victory Blvd., Burbank, CA 91502 (818) 848-3626
4913 Sepulveda Blvd., Culver City, CA 90230 (310) 391-FOAM
Tell Andrea, BargainsLA sent ya!