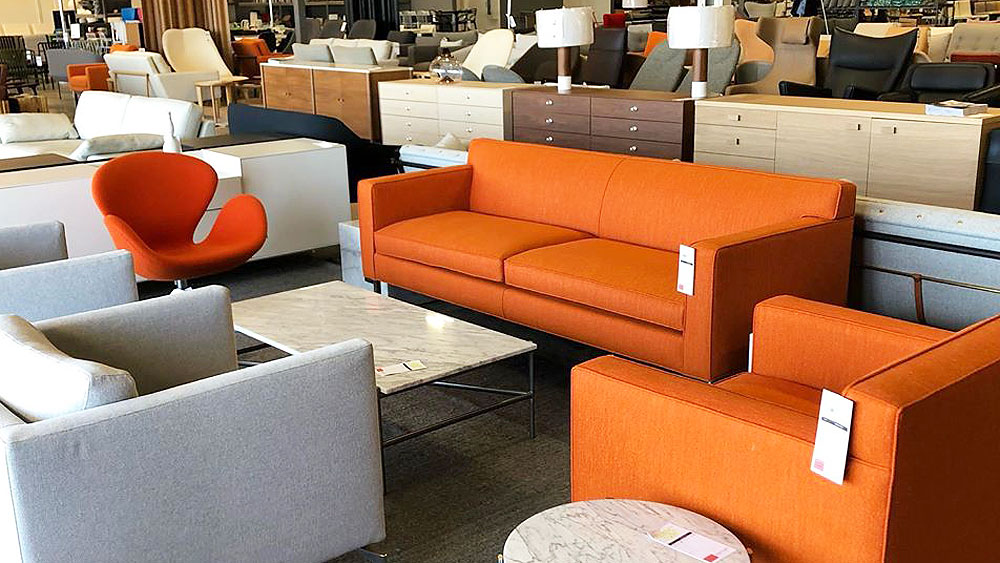 July 06, 2019
Love authentic Mid Century iconic design and quality? Then you'll obviously love the Design Within Reach Outlet in Oxnard. This Modern Home Furnishings Outlet has discounts of  25-70% off showroom floor models, overstock, customer returns and scratch and dent pieces. Most items are in mint to good condition and are priced at 25%-40% off while scratch and dent items tend to run 50-70% off.
Here, you buy off the floor. So what you see is what you get. The sales will gladly help you examine and show you if there are any flaws. But flawed items were few and far between.
The outlet space is open, clean and airy with items grouped together by type. The turnover is fast and new items were brought out all day long the day I was there.
Hot buys included an Eames Lounger & Ottoman at $3306 instead of $6510. A gorgeous Reid Chaise Sectional in a gray leather was $5130 instead of the original $9550. A Costura armchair that would normally set you back $1890 is $1134 here. A Tuxedo sofa that was $9922 is here at $4961. A grey velvet Bantam sofa was $2840 instead of $3550. A Milo Baughman Recliner that was $2990 is here at $1196 and a Morrison Console was $2436 instead of $4060. A Matera Armoire was $3060 instead of $5100. An Egg Chair in a red upholstery was $4896 instead of $6994. A Nest Storage bed was a good buy at $2049 instead of $3415 and a Platner table & base was $2274 instead of $3790 and a shell chair with cowhide that was $3760 is here at $2256.
A scratch and dent items included a Finn Chaise lounge at $560 instead of $1865… very dirty. A Matera 5 drawer chest with some scratches on the top surface and was priced at $985 instead of $3285. Maybe a little Restore a Finish would help? And a Cross extension walnut table (no leaves) was $2397 instead of $3995.
There was also a good selection of lighting, dining chairs, accessories and rugs here as well. A Neverending Glory Pendant lamp was $1536 instead of $2560. A 9 x 12' rug that was $1400 is $700. An Onda Counter stool was $233 instead of $389 and a Hudson Chair was $1160 instead of $1785.
Like all Design Within Reach stores, you'll get full service and be treated as a valuable guest. As soon as you pick your piece they'll go over it with you, take it off the floor and wrap it for shipment to ensure you get exactly the piece you choose in the condition you choose it.
If you need furniture, the drive  to this Modern Home Furnishings Outlet is well worth it  the effort. As the DWR outlet is next door to the Restoration Hardware Outlet. Convenient, Yes?
Finally, authentic designer, modern home furniture for less. Can I hear an Amen!
Design Within Reach Outlet
1885 Ventura Blvd,
Oxnard, CA 93036   MAP
(805) 278-6994
All Sales Final
The DWR Outlet is also on Ebay
Tell 'em BargainsLA sent ya!