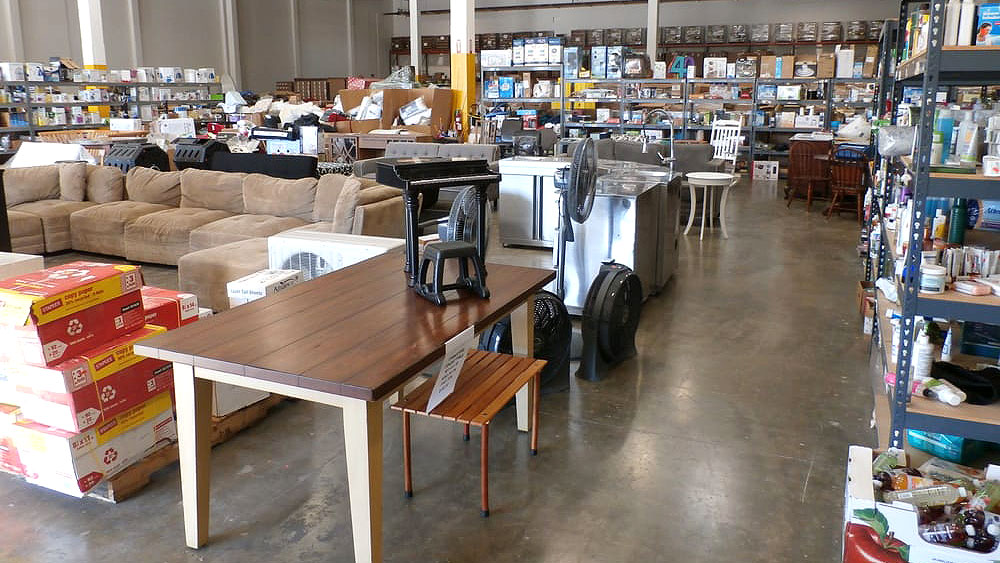 August 16, 2021
Bull Dog Liquidators is one of those great outlets that go the distance. This Costco Liquidation Outlet has real discounts of 40-80% off original retail on products from Costco, Wayfair, Amazon, Dicks Sporting Goods and Lowes. Revisiting this liquidation outlet this week revealed why this company is going the distance. Now, particularly at the Valencia store, service with a happy attitude is the norm with lots of able bodied help.
Bulldog resells liquidated product in customer returns, overstock, discontinued product, out of box, shelf pulls and freight damaged. So it is a delightful scavenger hunt for savvy shoppers.
I watched as product flew off the floor before it was even priced. Furniture, toys, electronics, gaming systems, housewares, office, home décor, lighting, tools, and much more!
Recent hot buys included a HOOBRO entryway Shoe Rack, Table with Coat Hooks for $35 instead of $66. A Pinkpum Stackable  4 pack, foldable storage unit for $20 instead of $41. A thermomate 600W Stainless Steel Countertop Food Dryer was $80 instead of $170. A Farmhouse Chandelier that was $290 is here at $145.
There are solid buys on lower end to mid level furniture. A Zinus Ricardo Sofa that was $519 is $250 here. An Abbyson Everette Modular Sectional was $850 instead of $1700 and a Mortara Leather Sectional & ottoman that was $4299 is $2100. There also was a row of side chairs, recliners and club chairs priced at $99 $299. And a patio lounger that retailed at $315 was just $69 here.
This liquidation outlet is not for the snooty. Though reasonably well organized and fairly clean, it's still rough around the edges. Most likely because product comes in daily here and then sells so quickly.
Savvy bargain hunters who know what to pounce on will LOVE this Costco Liquidation Outlet Judging from the amount of shoppers here, there's a lot of us already hooked on this off price liquidator!
Tell 'em BargainsLA sent ya!!
Bulldog Liquidators
28408 Industry Dr., Valencia, CA 91355 (661) 294 2488
3233 Mission Oaks Blvd. Unit A Camarillo CA 93012 (805) 312 0327
9200 Desoto Ave Chatsworth, CA 91311 (buy online, pick up in store) (818) 885 1263
Out of State Locations:
3265 E Tropicana Ave Unit 32-34, Las Vegas, NV, 89121
2201 North Meridian St, Indianapolis, IN 46208
130 State Route 111, Hampstead, New Hampshire 03841
620 Essex St, Lawrence, MA 01841