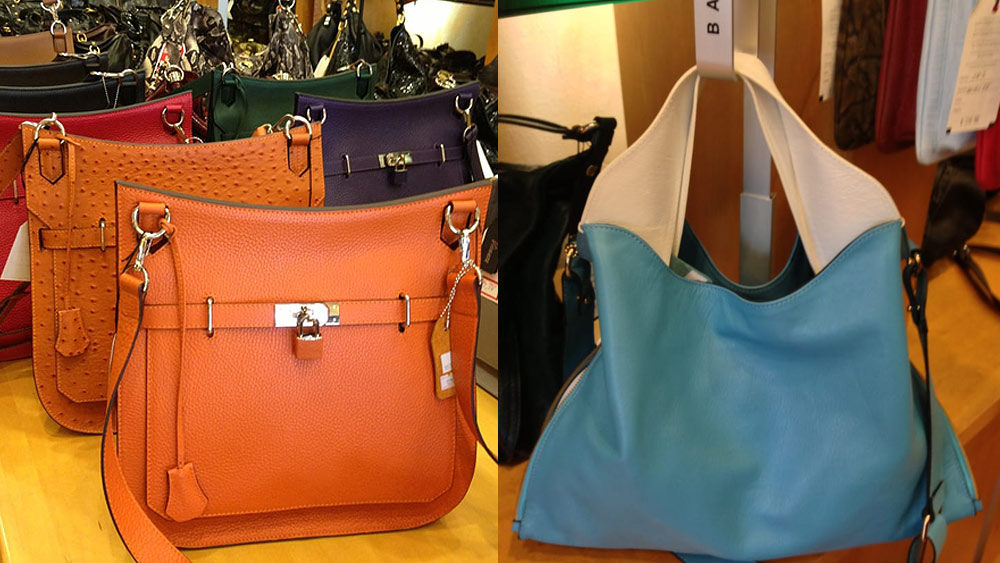 November 07, 2019
If you love high end, quality crafted, leather handbags…. but not the over the top prices, you'll  love leather  and handbag outlet, Barini's Leather.  This leather handbag outlet's owner, Gary Barini, designs luxury handbags as wells as repairs leather accessories and fashions at 40-70% less than retail.
Of course, you'll find beautifully crafted, high quality leather handbags and fashions at this luxury leather handbags outlet.  But, if you only buy designer labels, just for the designer name, this shop isn't for you. Barini's Leather is for people who demand quality, insist on beautiful design and who really love leather.
So you'll discover, marvel and shop their beautiful, meticulously crafted Italian leather handbags, wallets, briefcases at prices way below what you'd expect to pay for such quality bags from couture designers.
Owner and craftsman, Gary can make any handbag for you at his wholesale price from Italian tanned calfskin, calf suede, buffalo or lambskin from over 600 leather choices.  He can copy those ultra high-end, "world famous" couture handbag styles, but with higher quality craftsmanship at costs of  10%-20% of their retail value.  But, as a man of high standards, he won't do replicas.
At this leather and handbag outlet, I marveled at an amazing leather handbag that Gary made that resembles a Bottega Venetta Bag with it's famous basket weave pattern. Here his version was $438-$875 in different sizes. Retail would run $1000-$1900. The designer bag would run upwards of $9000.
Because his work is so meticulous, Gary's  gorgeous version of a world famous style bag, without the "name" hardware or stamp was $910 instead of $2000-$2500. So, he actual designer bag would run $8000-$12,000. But, Gary sells his beautifully crafted version directly to the public at his wholesale direct price. Plus, he can help you design and will custom make, repair or refurbish any handbag out there from a vintage Chanel or Louis Vuitton to a Birkin bag.
An expert pattern maker and a leather perfectionist, Gary uses old world craftsmanship in every task he takes on. And because he has strong ethics in manufacturing, he doesn't do exact copies of anything… just similar. Everything is made right on the premises of his small storefront.
So, if you love high quality leather goods at prices that are a bargain, this place is for you! This is the best kind of Leather and handbags outlet. It's THAT good!
Handbag lovers, look out! This one is a gem!
Barini Leather
12210 Ventura Blvd
Studio City, CA 91604
(818) 506-5422
Tell Gary, Suzanne from BargainsLA sent ya!