The Best Way to Buy Used Furniture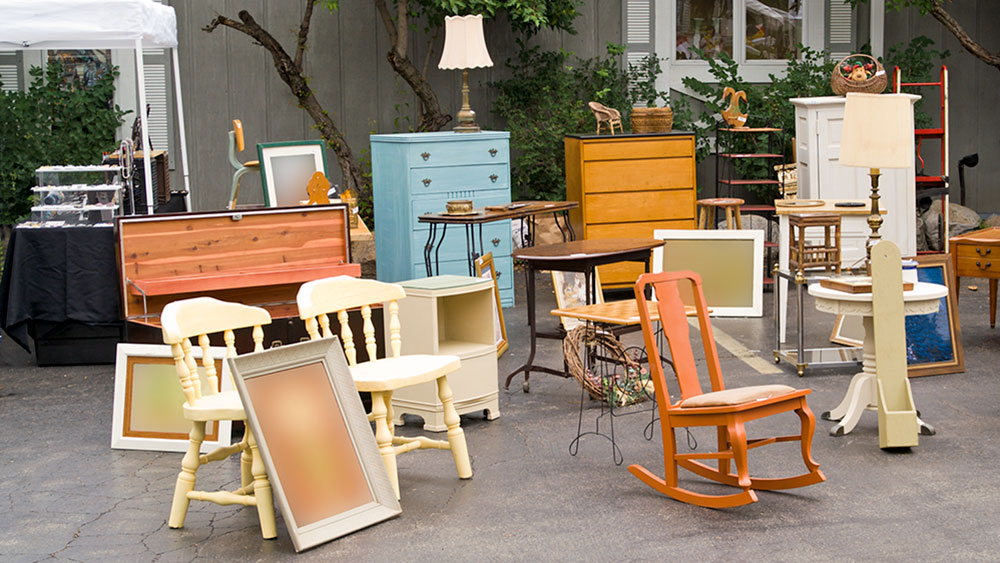 September 16, 2020
The Best Way to Buy Used Furniture is simply at Estate Sales. We discovered Estate Sales when we were looking for authentic home furnishings and lighting for our 1920's home. After discovering a few good Estate Sales we were hooked and have been avid fans since. We buy quality used furniture that timeless, affordable and works well. Now we're helping our daughter furnish her apartment for next to nothing.
Buying quality used furniture is fun at Estate Sales.  We've found the great deals on quality used furniture and household necessities. Whether designer, upscale or just out of the 1940's Sears catalogue, older stuff is usually built better.
The first sale our daughter went to by herself, she picked at 4 place settings (16 pieces) of dishes for $18. We went to the same sale after her and found 3 metal mixing bowls for $3, a set of Paul Revere pots and pans for $22, a 10 x 8" hardwood cutting board for $3 and a liquid measuring cup for $1.
Our kid's a teeny weeny budget of $800 won't go far, so we're chipping in for the kitchen ware. She still has find dining chairs, table and a sofa. Not an easy task for decent quality, but doable at Estate Sales.
Yes, there will be some junk, but a good educated eye will spot great items. If you don't know about furniture construction, do a deep Google search, read and learn. It will save you a heap of money in the long run.
We tend to hunt for hard case goods, decor, tools, kitchenware and art at Estate Sales and avoid upholstered product, so we don't have to re-upholster. With that in mind, at a Studio City Estate Sale we found an early 2000's, solid wood Restoration Hardware TV Console for just $45. At 64" and in near mint condition it has plenty of room for a 50" TV. At another sale, we found a 1970's wood hallway cabinet for $30. A 1940's walnut plant stand for $15. Measuring cups for $1, a Bodin French Coffee Press for $3, and a set of kitchen cooking tools for $6.
After two weeks of looking, we found her a drop leaf Mid Century dining table for $40 and 3 chairs at $20 each. After a bit of clean up they work great.
We look  for good sales at EstateSales.net
You can search by city, state or zip code. Each sale usually has a lot of images, so you can pick and choose what sales hold promise. They list sales locally,nationwide and online.
Some sales are over priced, but often discount as the sale progresses or if you want more than a few items. Be prepared to try to dicker. Pricing should be at least 50% below new market. In our area we love Crown City, Grasons, Tall Robs and Howe. Well priced, well organized and nice peeps who know what they are doing.
Remember, Estate Sales are where the dealers buy quality used furniture. Be prepared to pounce at these sales. People who are in the know and dealers, don't dawdle or ponder… they pounce! Make sure you can move items yourself or have someone who can.  For legal reasons, most sales won't help you load product into your car or truck and you've a tight time frame to pick up, often same day.
During this pandemic everyone must wear a mask and do your best to socially distance. Most sales have hand sanitizer and shields at check out.
One of the best aspects of Estate Sale shopping is seeing older architecture and finding unusual and historic items. So you'll have fun and save!