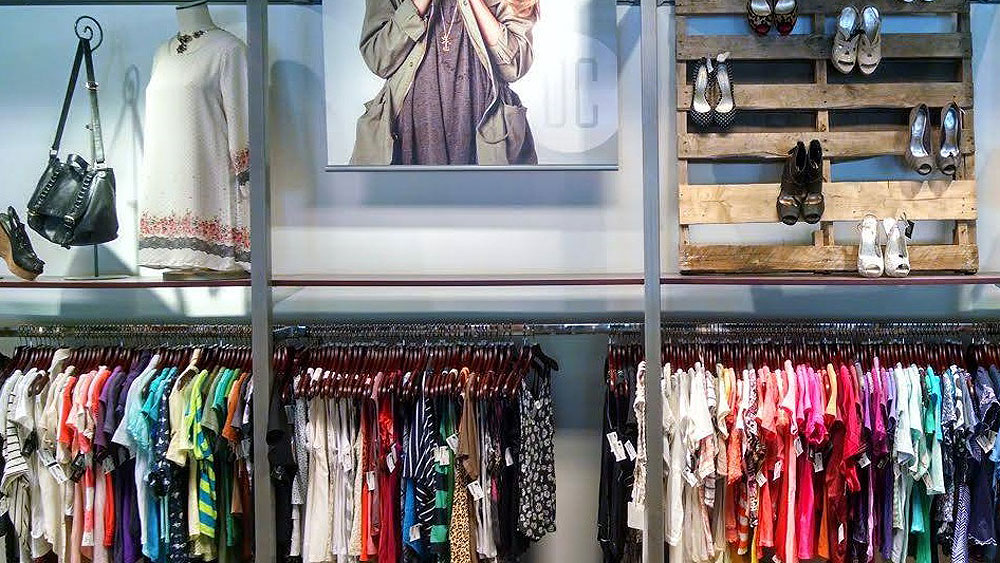 Uptown Cheapskate is a fashion thrift and resale store with steep discounts on used name brand clothing and accessories for men and women.
Anyone who knows anything about bargain shopping knows that you can find some amazing deals at Thrift and Resale shops. Whether you're looking for upscale chic or trending fashions, new on the block resale store, Uptown Cheapskate has what you want.
Like Crossroads and the like, this shop is more focused for those under 35 with both used items and brand new pieces (NWT). Experienced shoppers will find a fun and varied selection here for 40%-80% below original retail.
During my hour long visit I found men's and women's apparel by Free People, Brandy Melville, Habitual, Harley, Calvin Klein, Abercombie & Fitch, Forever 21, H & M, Obey, Gap, Hurley, J Crew, True Religion, Steve Madden, Sam & Libby, Ben Sherman, Billa Bong, LL Bean, Kenneth Cole, Hudson, Joes Jeans, as well as accessories by Coach, Michael Kors, Louis Vuitton, Doone Burke, D& G and many more.
A large selection of women's items are here from shorts to shoes and dresses, to sweaters with a racks devoted to Brandy Melville and Free People. A Hurley women's plaid hoodies was $12.99 instead of $44. A Mark & Spencer leather car coat was $15.99 instead of $180 brand new. A NWT Forever 21 sequined evening dress was $24.99 instead of $48. A Love Stitch peasant dress was fun at just $9.99. A Brandy Melville shirt was $11.99 and a Mossimo women's cargo jacket was $15.99 instead of $59. Also spotted were Some Paige denim at $29.99 and True Religion jeans at $29.99.
There's a good selection for men from tees to coats and jeans. Highlights include a nearly mint, men's Dr. Martens boots at $54.99 instead of $125. A Kenneth Cole men's dress shirt was just $13.99. Men's Hudson jeans were $29.99. A Men's Wilson leather coat was a steal at $27.99. A Men's Knightbridge suede jacket was $24.99. Joes Jeans were here at $39.99 instead of $150-$179 new. An Etnies hoodie was $17.99 instead of $54. A Perry Ellis short sleeve print shirt was $9.99 as was a Ben Sherman short sleeve shirt at just $9.99.
If you're an accessories fan you'll find some great deals. A Michael Kors leather clutch for $48. A Dooney & Burke Cross Body bag was $44.99 instead of the original $188. A pink leather coach bag was $49.99.
They have regularly weekly sales with additional discounts, so always ask. If you have clothes you want to sell, they'll buy outright or due a trade.
Another great way to recycle your wardrobe and get more bang out of your buck!
Fashion thrift and resale store, Uptown Cheapskate has four Southern California stores with more opening soon.
20725 Hawthorne Blvd., Torrance 90503 (424)452-6097
2424 E. Chapman Ave., Fullerton 92831 (714) 660-7665
24366 Rockfield Blvd., Lake Forest, 92630 (949) 441-1479
120 E. Yorba Linda Blvd., Placentia 92870  (714) 660-7665
44450 Valley Central Way, #510-010, Lancaster 93536 (661)941-4333