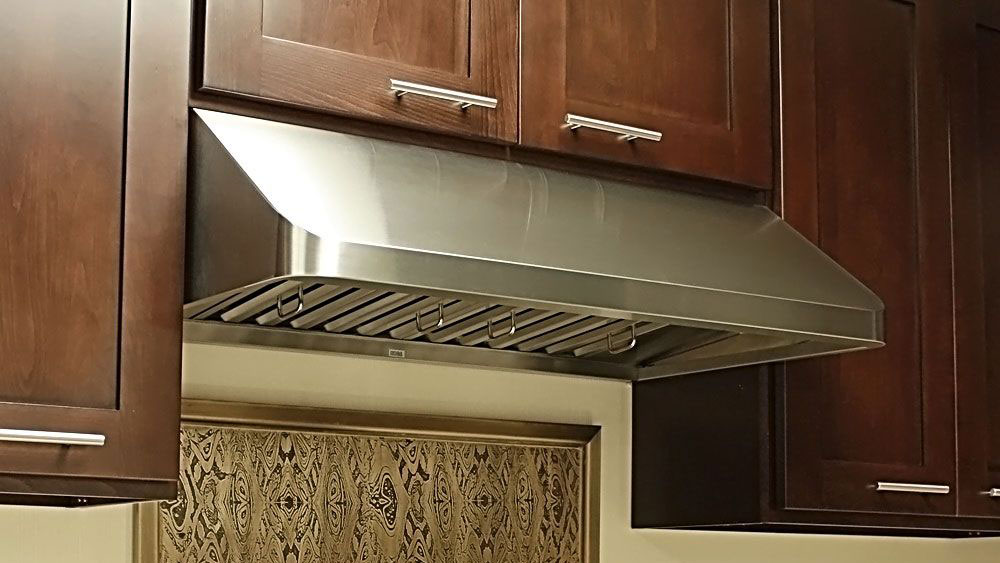 April 17, 2021
The Kobe Range Hoods Appliance Outlet, has discounts of 40-70% on their line of range hoods.
A leader in the kitchen ventilation, KOBE Range Hoods is based in Arcadia. And at that location is their distribution  factory warehouse where a section in a back corner has deals on open box, aka floor models.
These hoods are sleek, clean, seamless stainless steel designs that would work in any style kitchen whether it's transitional, country or modern. Most are one of a kind, but a couple of models had quantities of 2, boxed in stock.
This factory outlet is not set up for the general public. It is a working warehouse. So don't expect a showroom or great lighting. You'll be escorted to the outlet area through the showroom / warehouse by an employee. But once you get there you'll see the quality and savings. The outlet selection can run a large amount to just a few pieces.
An under cabinet Range Hood that retailed at $900 is priced at $249. Another under cabinet range hood that was $800 is $340. A Range Hood that was $731 is $321 and a similar one that was $679 is $288. A 36" wall mounted range hood was $321 instead of $730. A classic hood that was $639 is $320 and a quiet mode 30" wall mounted range was $340 instead of $806. The stainless selection isn't huge, roughly 16-20 hoods.
Each Range Hood's size and technical attributes can be explained by the warehouse employee. So do ask questions. But you should be familiar with what you're looking for before you go.
In the showroom you'll also find other deals including some cool copper black splashes at 30-40% off original retail. A group of 36" copper back splashes with a 3d art insert were $499 instead of $699. A copper 30" fan patterned backsplash was $299 instead of $499 and an Asian writing themed, copper back splash that was $449 is here at $299. Also spotted a copper hammered dual sink at $1044 instead of $1400.
Before you go to this Range Hoods Appliance Outlet, I'd call ahead to see if they have your size in and how large the open box selection is.  All items are open box and sold "as is" on a first come, first served basis. They will test each unit in front of you before you purchase to make sure it works since there are no returns. Most of their hoods run perfectly for 10-12 years.
The KOBE Factory Range Hood Outlet
11775 Clark St.
Arcadia, CA 91006
(626) 775-8880
Open M-F, 9am-5pm
Free Parking Lot