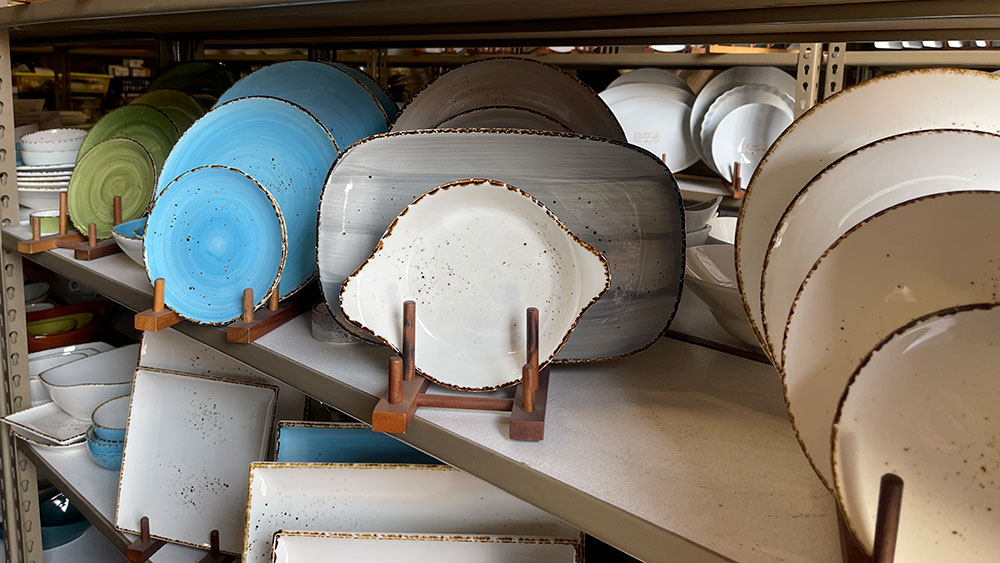 July 20, 2022
The Dish Depot is a restaurant supply outlet that has discounts of 20-70% on restaurant dish ware, serve ware and restaurant supplies,  Widely known in the restaurant biz, the public can shop here too!
This delightful, but rough around the edges outlet is a hidden gem where you can get amazing buys!
Owner Sam is friendly and knows his product. Most items are priced, but what isn't priced, Sam will look up for you in his office.  The best buys are by the case here or in quantity.
You'll spot Tuxton, Libby, Coors, Palate & Plate and other known brands here for much less!
There was lots of white, modern fine dining plates here. You can put together an entire set or mix and match as you please. A Palate & Plate, Melamine rectangular serving plate is $14.99 here instead of $17 on Amazon.
A small rectangular platter was $3.99 instead of $8. Round rimmed soup /salad bowls were $1.50 each instead of $4-$10. Square 7" dish was $2.99 instead of $7.99.  A 20 oz tea pot with lid was $11 instead of $18. An oval 10.5" coupe plate was $71.99 a dozen.  A rimmed round  6 1/4" plate was $24.99  a dozen.
Steeper discounts are in the back area wines dishes stacked or boxed.  YOu'll rummage a bit here , but you'll score some deals! A 4" white porcelain bowl for $1. Tuxton Ramekin dishes were $1-2 each. A round porcelain white cereal bowl was $3.99 instead of $5.49 at Cost Plus. Round rimmed dinner plates were $3 each or $30 for a dozen. White coffee mugs were $1-$4 each. Retail is $4-$8.
The flatware was everything from low-end restaurant to 18/10 stainless. There are over 25 styles starting at $1.99.  Again, best prices are by the dozen, already boxed.
A 15 x 19 bamboo cutting board was $12 instead of $ 15. Steel ladles started at $2.49. Lots of glass stemware and specialty glassware priced at $1-$5 a glass with a dozen 20 oz wine glasses at $29.99.  Professional Industry Cake pans were $5.49 each.
I walked out with 8 rimmed white soup bowls at $1.50 each (to go with my Liberty Blue plates) and a large white oval serving plate for $8.
Once you shop here, like me, you'll be hooked. One gem of a restaurant supply outlet!
The Dish Depot
546 W. Garfield Ave., Glendale 91204
Open: 10-4 M-Friday, 10-3pm Sat. Closed Sunday
Cash/ CC
Tell Sam, BargainsLA sent ya!
Street parking.