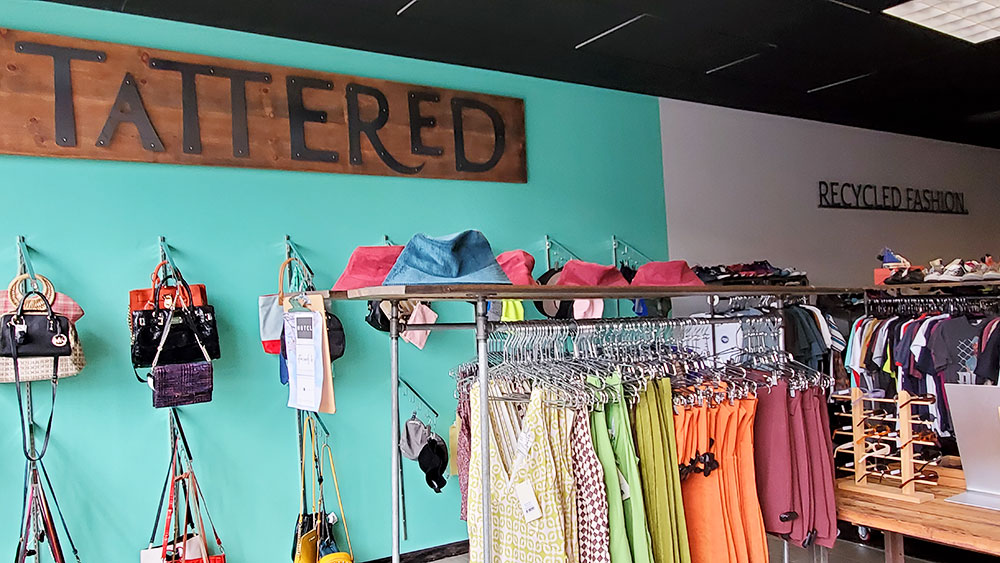 September 23, 2021
Tattered Resale is a resale fashion store with discounts of 25-80% off of original retail on gently used and new with tags, name brand and designer fashions for men and women.
The bulk of the items here  at this Resale Fashion store skew  a bit more trendy with goods by  Madewell, Matisse,  adidas, American Apparel, Anthropologie, Rails, J.Crew, Nasty Gal, Shore, Levi's, Nautica, Rag & Bone, FreePeople, Vans, Nike, Kenzo, Splendid and the like.
There was a nice selection of NWT overproduction in the front of the store with labels like Peppermayo and Motel. These overproduction women's fashions were cute and trendy and priced at 25% off original retail. A Motel Madsen dress that was originally $59 is $44.25 here.
Beyond the first area, they split the store into two sections. In the mens section I spotted a lot of Vans product. A Mens NWT Vans jacket that retailed at $109 was $60 here. Mens Nike suede Platform boots were $95 instead of $180. Some NWT's Vans board shorts were $20 instead of $54. A Mens Rag & Bone jacket was steal at $38 instead of $280. Nordstroms classic shirt was $22 instead of $88. A Theory dress shirt was $24 instead of $165.  A Nautica bomber jacket was $45 instead of $225 and Levi's jeans were $16.
 The women's section had cute tees, blouses, sweaters and dresses, I loved a Nasty Gal satin tank for $9.  A Anthropologie dress was $30 instead of $115. A Rails jumpsuit was $29 instead of $80. A 1980's Vintage floral maxi dress was cool at $14. A Made Well gingham peasant blouse was sweet at $25 instead of $88.  A Cleobello hot pink, embroidered cocktail dress was $36.  American Apparel polka dot, pleated mini skirt was just $12. A pair of Theory plaid pants wet cool at $1 and a killer pink metal mesh mini dress was $30.
Shoes and Accessories were well edited with a used, mint Gucci handbag for $300 (market price) and a Dooney & Bourke tote for $95. Some never worn, Matisse leather booties were a great buy at $40 instead of $180 and a hardly worn, pair of pony hair slides by J Crew were $18 instead of $105.
Do hit the back wall with an additional 50% off. Hot buys there included at  Maeve blouse for $10 instead of $89. A Free People lacy tank was $11 and a classic Levis Jean jacket was $23.
They buy and trade with their customers and give you cash or store credit when you bring items in. Sweet!
So when you hit Trader Joes next door, take 15 minutes and cruise this delightful resale fashion store for some great buys! You'll be glad you did.
Tattered Trading Resale
5555 E. Stearns St., #106
Long Beach, CA 90815
Tell 'em BargainsLA sent ya!
562-431-4001