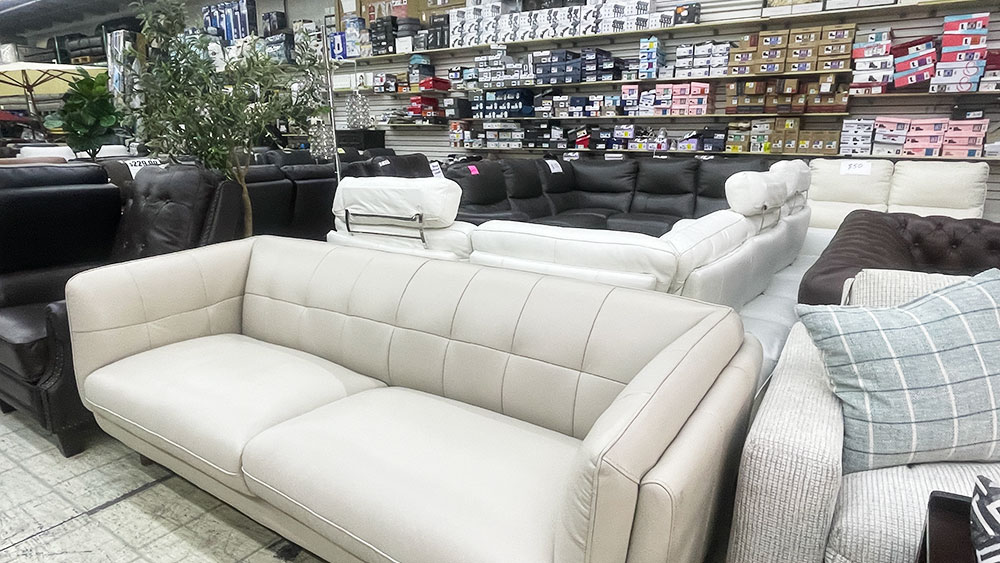 May 04, 2023
Home Depot Lowest Price Outlet has discounts of 30-90% off retail on Home Improvement product, patio,  home furnishings and decor items liquidated from Lowes, Amazon, Home Depot and Costco. Handling discontinued products, overstock & customer returns, their 3 locations carry a large inventory.
Part of the Buildland Liquidations outlet group, I initially reviewed Buildland back in 2021.
These outlets are still rough, often messy and chaotic. But for those of us who love a good deal, you'll find some great stuff. Not everything is priced here. But with at least 75% of the store priced, it's worth the effort to shop.
Some of the bargains here were jaw dropping.
A perfect Thomasville velvet teal sofa was $549 instead of $999 at Costco. A grey, glass door Console Cabinet was $305 instead of $700. A light grey leather, power reclining sofa was $839 instead of $1400 at Costco.  Some ProForm Tour De France Exercise bikes that sell at Target for $500 are $99 here. A modern tan Leather Barcalounger was $244 instead of $549 at Costco.
A Simple Human  semi-round sensor can is $99 instead of $200.  FEIT LED Outdoor lanterns that retails at $45-60 are here at $25. Artic Air occilating fans were $45 instead of $98.81. Some 15 Outdoor solar lights were $29 instead of $49 and some 65 watt LED ceiling bulbs were just $5. Larger floor rugs ran $99- 429.
A single under mount sink, bathroom cabinet w/ marble top & backsplash was $359 instead of $800. A larger, navy blue bathroom vanity cabinet with marble top was $679 instead of $1400. A large selection of oak vinyl flooring was $1,59 a sq ft. and Mohawk waterproof laminated wood flooring in Millport Hickory  was $29 for an 18.14 sq ft. box.  Retail is about $100 a box
Though there are some stellar buys to be had here, there are caveats shopping here.
The staffing levels are minimal. Though pleasant and helpful, they do not know much about the product.
Do examine everything carefully and test all electronics before purchase, since they are NO returns.
They offer deliver at $50 for the first 10 miles and $6 a mile after that which is reasonable.
Home Depot Lowest Price Outlet has some great buys for intrepid, hardy shoppers.
Home Depot Lowest Price Outlet
10138 Garvey Ave., #A, El Monte 91733
Buildland Locations:
1312 N San Fernando Rd, Los Angeles, CA 90065  
6015 Randolph St., #A, Commerce 90040
Tell 'em BargainsLA sent ya!
Instagram