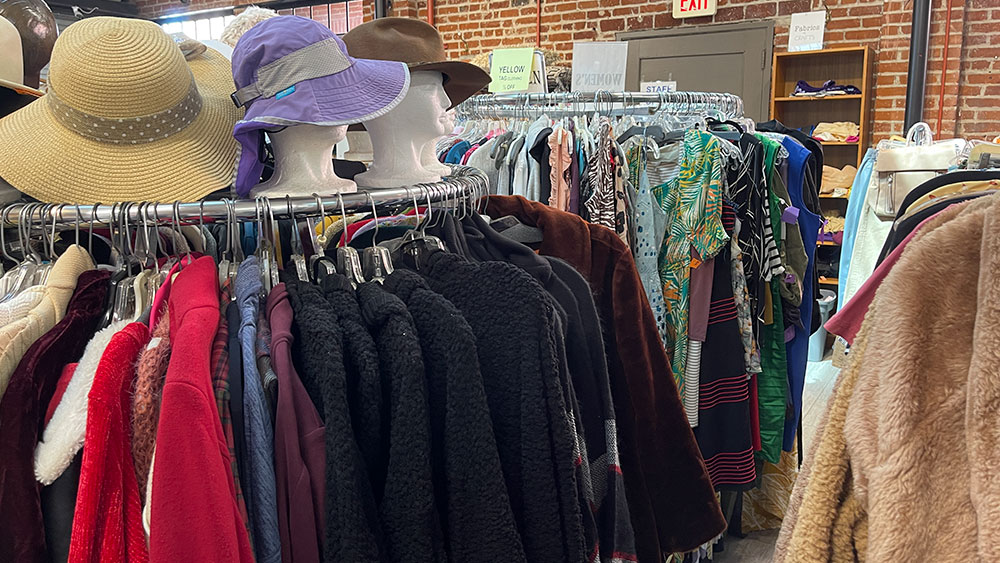 October 11, 2022
The Glendale Assistance league thrift store offers discounts of 60-90% off original retail and an average 20-40% less than other thrift stores. Everything here is donated and the staff are all volunteers.
All items are tagged with a colored price tag. Every week a color discounted, so a lot of items in the store were an additional 50% off! You have to check the board above  the checkout every visit to find out what the additional discounts are.
After I donated some items, I started browsing with the racks outside the store with several racks of $1 Halloween costumes. Once inside, I found some, mint condition, tall drink ware on sale at 50 cents each.  I would expect to pay $4 each or more for each. Since we are constantly breaking glassware, I bought 6 of those. Some pale pink modern bone china dinner plates were $ each and a collectible, 1970's classic brown Ice bucket was only $5.
Then I hit the clothing racks. A Trina Turk orange peasant blouse was $15. A Calvin Klein fitted little black dress was $15.  A mens Adler Leather lambs skin car coat in excellent condition was $30 instead of $90 at other thrift stores or $450 brand new. A Kate Spade embellished tunic dress was $15 instead of $100 elsewhere or $550 new. A Tahari Arthur Levin pin strip dress suit was $15. This vintage piece should go for $75+ at a vintage store. And a warm olive J Crew linen dress was just $15.
I also spotted a vintage Vertigo blouse for $3.50.  An Entro V neck wrap shirt was $3. A Pete & Greta silk tunic for $5 (retail $149) and a cute Max Studio ruffled wrap blouse was $5. A fuzzy Calvin Klein NWT purple coat was  $15 (1/2 off $30). Retail was $129 and a double breasted velvety pea coat was just $10
Another rack had NWT Nick and Mo cardigan sweaters were 1/2 off at $10-$15 each. This discontinued line retailed at $89-$250. Another rack had NWT maxi dresses by Luxxel for $30 and classic Steve Madden rounded toe red patent leather pumps were $6.
Men will find great items too! A mens Hawaiian shirt by Reyn Spooner was $20. A Joseph A Banks red plaid shirt was $7. And some mens NWOT tan colored Levi's were just $7.
There was a rack of kids items in the back with a Little Me floral puffer jacket at $5 and some toddler corduroy overalls were just $3.
After joking it up with the super friendly volunteers here, I was reminded that they are always looking for new people to join their philanthropic organization. You can read more about the good work they do HERE.
As thrift stores go, this is one of the best.  Smart, frugal shoppers as well as Poshmark type resellers shop here.
They also sell online on their Shopify Store:
Glendale Assistance League Thrift Store
314-A  E. Harvard St.,
Glendale, CA 91205
(818) 246-2294
Open: W-Sat 10am-2pm