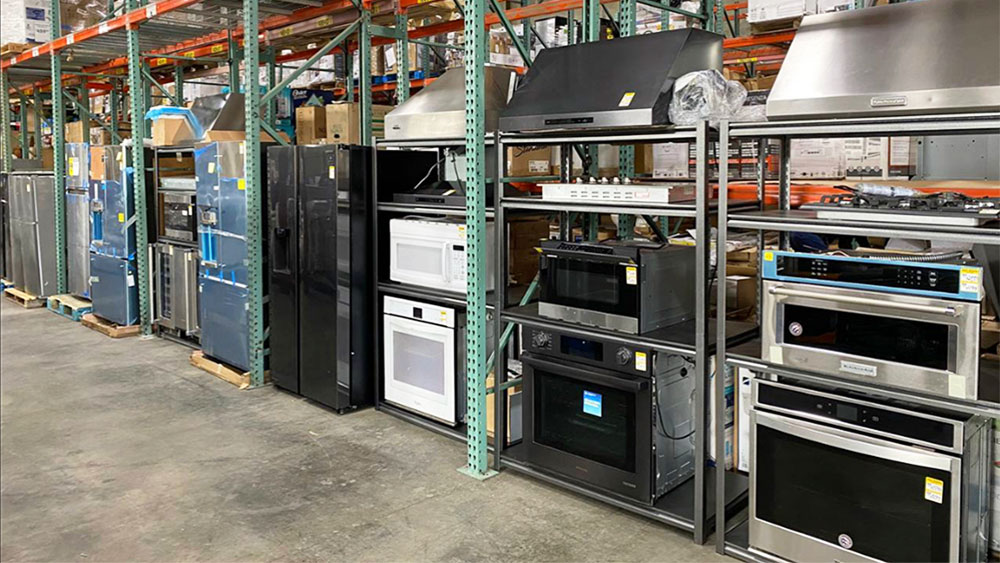 May 03, 2021
Home Improvement Discount Outlet, Buildland Liquidations sells overstock, discontinued and customer returns from Lowes, Home Depot and Costco at 30-90% off retail.
This large warehouse houses everything you may need for your home improvement project.
With new shipments coming in weekly, this place is rough around the edges and often messy. But those of us who love a good deal will love picking through some great stuff. Not everything is priced here. But with at least 75% of the store priced, it's worth the effort to shop.
Highlights include a whole house Humidifier by Honeywell for $69 instead of $127. And some Cordless window blinds (30 x 64") at $17 instead of  $35. A Hampton Bay, 3 light Vanity Fixture was $30 instead of $59 and A Defiant Motion Security light was $19 instead of $35.  A Basic Flush Mount Ceiling light by Cordelia Lighting was $19 instead of $35 an a modern outdoor forged iron porch light was $34 instead of $85.
Bigger home improvement deals are here too. Like an LG Washer/ Dryer set was $1299 instead of $2499. A Viking wine cooler was $1499 instead of $2929. How about a Jenn-Air stainless steel hood was $1089 instead of the original $1649. Or a Samsung Microwave was a steal at $49. A Bradford  White Electric Water Heater was $399 instead of $767. A 4 piece Nextile, tub wall was $229 instead of $380 and GE Built in oven was $1349 instead $1949 and an American Standard Reliant toilet was $99 instead of $189.
A Leather Recliner was $539 instead of $799 at Costco. A Gilman Creek Leather Sofa was $589 instead of $1199 and a grey sectional that was $1500 is $727 here.
But there are smaller goods here that will delight as well. Like  a discontinued model of a WaterpIk Water Flosser was priced at $58 instead of $73. A Honeywell Home programable Thermostat was $15 instead of $30. A Delta  Saville kitchen faucet $109 instead of $189 and a Kohler touches kitchen faucet was $147 instead of  $249.
Ceiling fans were plentiful! Like a Hampton Bay Malone Ceiling fan was $60 instead of $100 and a Home Decorators Altura 11 68" ceiling fan was $139 instead of $229.
The only issue I really have with this Home Improvement Discount Outlet is that, though they test product, there are no returns or warranties. All sales are final.  So you have to thoroughly inspect everything.
If you're sharp and savvy,  you'll score some incredible buys here.
Buildland Liquidations
1312 N. San Fernando Rd, Los Angeles, CA 90065    MAP
(323) 505-7060
Open Daily (9am-6pm)
Cash/CC.
2 other locations:
6015 Randolph St., #A, Commerce 90040
10138 Garvey Ave., #A, El Monte (Home Depot Lowest Price)