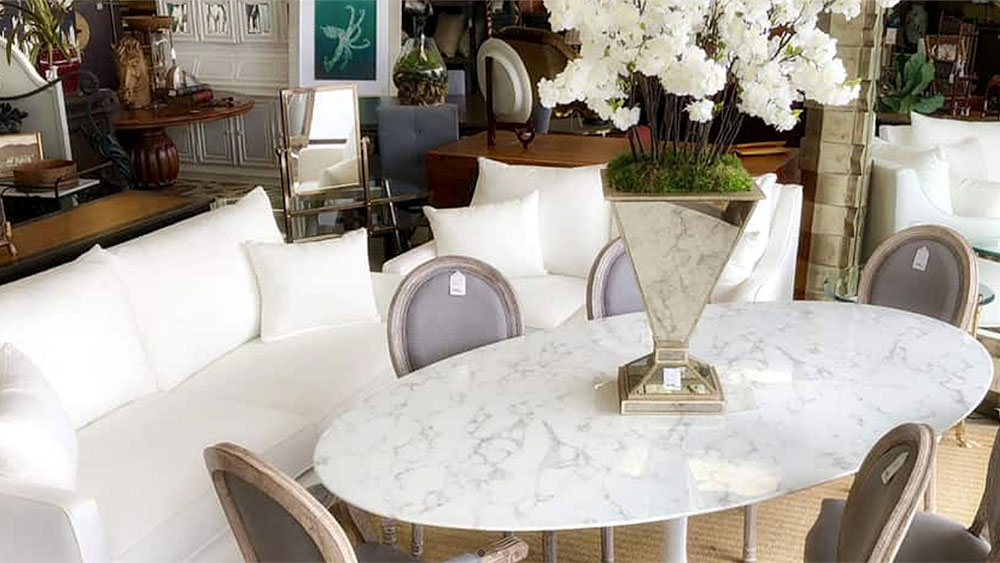 January 07, 2023
The Hunt Fine Consignment is a Fine Furniture Consignment store with discounts of 30-70%  on new and used upscale, unique, home furnishings and décor items.
This Orange County furniture consignment store is real joy. It's a treasure trove for smart bargain hunters, interior designers and collectors with upscale, unusual  and unique, home furnishings and décor items.
Owner, Margaret uses her expertise to curate new designer furniture from showrooms at stunningly steep discounts. She finds closeouts, samples, bloopers, and also consigns from private parties to give The Hunt a uniqueness all its own. The fast turnover here has most items flying outta here within a week.
From fine art to historic pieces to new contemporary and antiques are all  at Fine Furniture Consignment store at low prices. Like a stunning, NWT Henredon Asian lacquered bar that retailed at $4000 is $639 here. A new, Schnadig glass coffee table is a steal at $299 instead of the current retail of $1100. A chenille modern sectional that retailed at $2800 is $1100 here and a new Michael Amini hutch is $1199 instead of $3000 and a new K. Bau Collection 4 poster, hand carved & painted bed is $800 instead of $6900. A new contemporary floor lamp was $199 instead of $600.
Gently used pieces are equally stunning.
A Robert Irwin, collectible early 1900 bedroom set (2 twin bed, high boy & dresser) are $1000 instead of the current market of $3500. A mod blue velvet love seat is just $400. A clean, Restoration Hardware white sofa w/ nail head accents is $400. New would run 2800. Restoration Hardware dining chairs were $149 each instead of $499 and a pair of mint Cantoni Night stands are $499 instead of $2000.
The unique pieces are incredibly too! A bronze carousel horse is $1499 instead of $5000. A pair of Staffordshire Maltese dogs are $199 for the pair, instead of $850. A unique, European hand-painted, inlaid wood antique, marble top dressing table w/ matching cane chair was $599. Market is $1500+ ! Mother of pearl inlaid side chairs are $1000 each instead of $5000. A mint Nicaraguan Cocobolo live edge coffee table was $499 instead of $2000. A collectable B.B. La Femme serigraph was $99 instead of $1500 and a large Marc Jacobsen painting that originally sold for $10,000 is $499 here.
This place will amaze and delight you! The staff is helpful, fun and knows their product. A true gem of a store for savvy bargain shoppers. I Love….
Love, love love this place!
The Hunt Fine Consignment
23461 Ridge Rte Dr suite A
Laguna Hills, CA 92653
(949) 305-4868
Cash/ CC
Hours: M-Sat. 10am-6pm, Sun. 11am-5pm
Free parking lot.
Tell 'em BargainsLA sent ya!