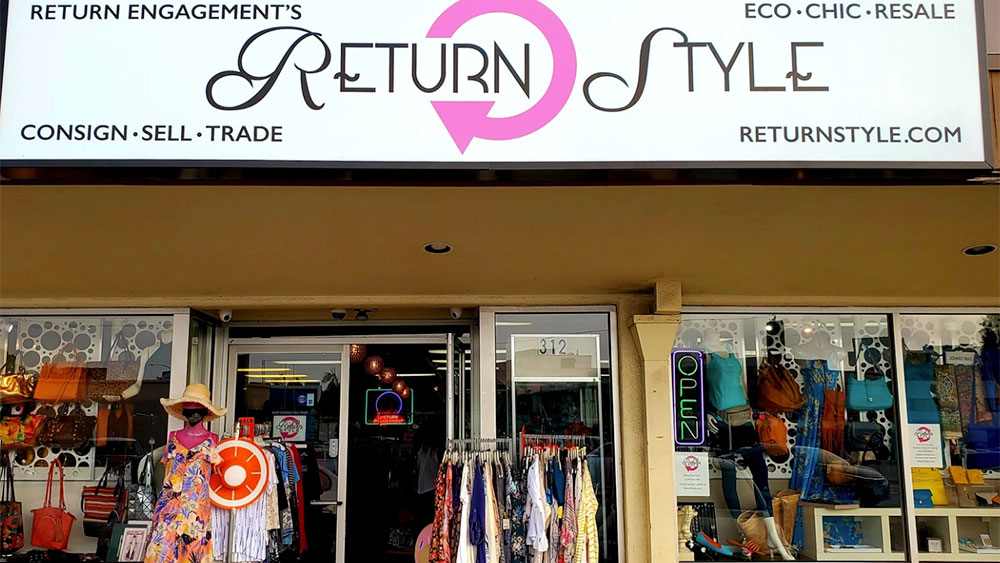 Return Style Resale Boutique in Redondo Beach is a gem of a women's resale fashion boutique. For over 25 years, they proved to continually be on the edge of the designer fashion trends as well as keeping it real…. And deliciously well priced.
Here you'll find upscale classics as well as cutting edge trendy apparel, all well laid out, well priced and without a snooty attitude. The sales staff are happy, friendly and actually helpful. So you're not on your own as you cruise the full racks.
I found apparel, handbags and shoes by Eva Franco, St John Knits, Michael Kors, Free People, Ferragamo, Theory, D & G, Madewell, Tahari, Ella Moss, Ellen Tracy, Bailey 44, Kensie, Marimekko, Ralph Lauren Polo, J Crew, Betsy Johnson, Maggy London, Johnny Was, Donald Pliner, Coach, BCBG, True Religion, Rachel Roy and many, many others. There's also a great selection of jewelry here. More than I have seen at any resale boutique.
Hard to resist deals included a Betsy Johnson dress at $34 instead of $200. A Kimchi Blue paisley dress was $12.80 instead of $55. A Bailey 44 tank blouse was $27.20. A Johnny Was long Linen coat was $43 instead of $250. A Nanette Lepore dress was $43 instead of $220. A NWT, Free People beaded shear dress was $33 instead of $78. A classic Brooks brother linen skirt suit was $39 and a Missok Knit jacket was just $29.
Don't miss the "Last Chance Racks" in the back. I found a Loft sequined tank top at $6. A Tory Burch T-Shirt dress at $19, a Marc Jacob long dress at $13.50, a pair of True Religion jeans at $14 and a Michael Kors top at $7.50.
Shoes and handbags were abundant ranging from brand names to top designer. Some Prada dress silver evening shoes were just $29. Some Tahari Peep hole shoes were just $17. A Coach Leopard print satchel was $149. A Pink Tiganello leather handbag was $22 instead of $120 and a pair of Ferragamo peep hole shoes were $149.
With  this women's resale fashion boutique huge selection in XS to Large and their great selection of accessories, you'll be able to put together several fabulous outfits for less than a one at retail.
Left to my own devices, I should have left here with an armload. But my phone keep ringing and I was forced to leave before I could try on my finds. This women's resale fashion boutique  is soo good, that even at an hour drive, I'll be back sooner than later.
Markdowns happen ever 30 days and items are all are tagged to reflect those dates. If you're into designer fashion and the bargain hunt, this place is for you. By all means… GO!
Return Style
312 Avenue I
Redondo Beach, CA 90277