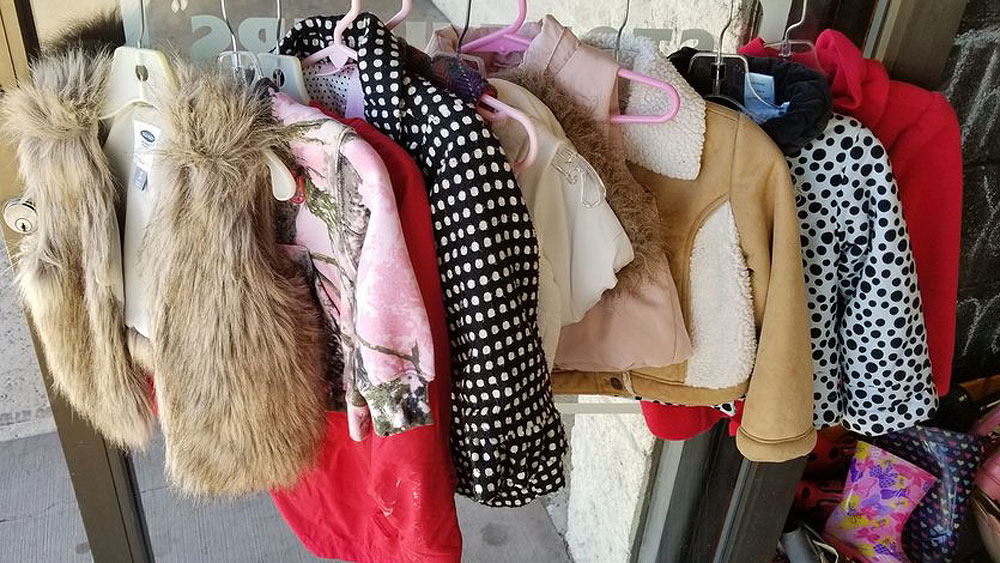 Family Fashion Resale Boutique, Mother's Secret is a Resale boutique with discounts of  50-90% off original retail on clothing for the whole family.
When my daughter was little, this was one of my favorite haunts. I would regularly stop after work and pick up a few items and chat with other Moms. It was a great  money savings resource for my fast growing kid.
It is still a treasure hunt here as it is still packed with goods from floor to ceiling. And it is still a one-woman show handling everything. The deals are outstanding on gently  fashion, shoes, accessories, toys, strollers, books as well as maternity and much more from all seasons.
The racks are organized by type of clothes and bins are by size. Owner and mom, Kathy is always there to give you the price and be of help. Plus, if you buy 6 items, you get the 7th item free. Pricing generally runs from $1.99-$-$5.99 for lower end clothes (Target). Better Brands run $4.99-$9.99 and Designer brands run from $12.99-$18.99 with only a few exceptions.
You'll find everything here in apparel from school uniforms to ski jackets to sporting goods and puzzles to cribs & car seats and even some costumes and kids formal. The selection is huge and you will have to dig, but the savings are enormous!
Great buys includes some mint Girls Old Navy Overalls at $9.99 instead of $34. A Lands End little girls day dress was just $5.99 instead of $40. An infant boys Carter top was $3.99. A nice Boys Quicksilver Sweater was $5.99 instead of $42. Some Girls Hollister Jeans were $7.99 instead of $25. A teen/ adult Generra top was $6.50 and a girls Belakat Summer top was $6.99.
Maternity items run $3.99-$18.99. I spotted some Liz Lange Maternity pants that were just $6.99 and Maternity blouse was $8.99. Other cool deals include a Graco Pack in Play at $140 and a folding chalkboard easel at $12.99.
I didn't get the chance to shop the adult section, but it was packed! Suffice it to say,  it is a Family Fashion Resale Boutique.
Kathy is always helping her customers and community whenever she can. You'll feel like you made a new friend who's experience you can rely on.
Family Fashions Resale boutique, Mother's Secret is still a gem of a store for moms who want to stretch their dollar.
Mother's Secret
364 S. Tustin
Orange, CA 92866
(714) 289-7688
M-Sat 11-4, Closed Wednesdays & Sunday.
Cash/ CC/ Cks