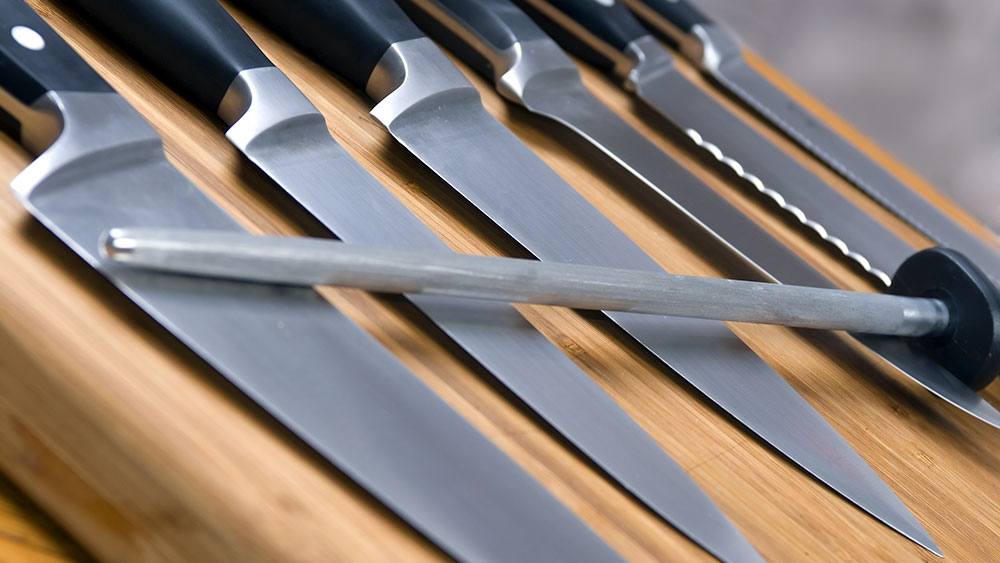 August 21, 2021
Keeping our quality knife set in top shape requires using a Knife Sharpening Service.
Buying quality knives has long term benefits. You don't need to replace quality, you just have to maintain quality product.
One of the quality products we first bought when we got married was a full set of Zwilling Henckels knives. Hubby is a terrific cook and we use these knives daily.
We've had the set about twenty  years. About every 3- 5 years we take 'em in for professional sharpening.
A recent trip to an estate sale reminded us of the need to sharpen our knives when we picked up a used Henckels 6" Chef knife for $2 to help our daughter set up her kitchen. Dull and a bit bent we knew a great knife guy that could sharpen and fix it. We just had to get busy and find him.
Jeff Higgins from IamaProSharp.com travels to different locations around Southern California to sharpen knives, scissors, shears and more at reasonable pricing. And he was visiting a nearby Joann's Fabrics the next day.
We had tried a couple of other guys and were not at all happy with the results. So we really want to use this guy.
We grab 6 different kitchen knives, garden clippers and the kitchen scissors and drop them off at Joann's. 4 hours later, we pick them up. They were all beautifully sharpened. The 6" knife was sharpened, straightened out & repaired and the garden clippers got oiled as well. That's why we use him. He does the job right.
He sharpens everything: Knives, serrated knives, food processor blades, clipper blades, paper cutters, garden tools, all types of shears including barber, tweezers and cuticle nippers.
Prices run $8.50 per knife to $35 for beautician shears. Tweezers are just $5.
He's not really lower in price than anyone else. But the work is excellent. He works with Chefs, beauticians, landscapers, groomers and aid regular peeps breathe new life into their trusty cutting tools!
Considering how expensive good knives are, taking care of them only makes sense.
For a quality Knife Sharpening Service, give Jeff a try. Tell 'em BargainsLA sent ya!
Jeff Higgins
(805) 404-0612
iamprosharp.com