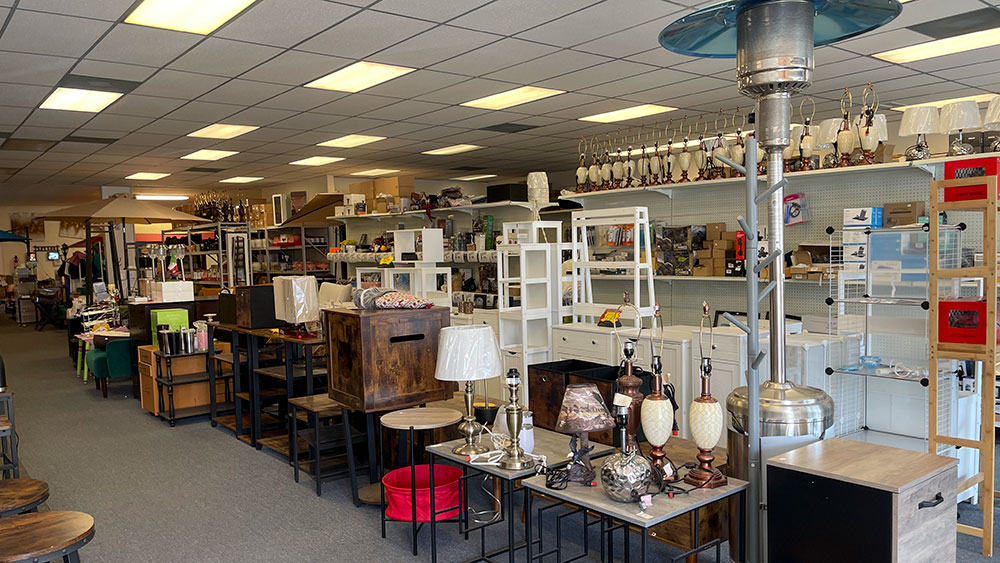 March 03, 2022
The Kanstar Outlet Stores sells new, liquidated product in home goods, electronics, home improvement items and more from Amazon at 30-70% below original retail.
This moderately organized outlet has "Mish Mosh" of everything Amazon. I saw furniture, home decor, patio, kitchenware, car accessories, beauty & health and more here.
The furniture is trendy and mostly is mid range in quality. Some super cute mustard colored upholstered side chairs were $96 each instead of the original $219 each. A macrame hanging chair was $50 instead of $110-$235. Some MCM styled side chairs were $110 instead of $279 each. A rustic wood & metal bar chair was $38.99 instead of $99. A Serawall Adirondack chair was $63 instead of $209. A mod gold colored, metal glass coffee table that retails at $99 was $59.99 and a cream upholstered recliner chair was $199.99 instead of $398.
I spotted a Vellax percussion massager for $45 instead of $90 and bought it immediately.  A large Cantilever umbrella was $60 instead of $139. Great for recycling, a 2 section trash can was by Songmic was a $64.99 instead of $139. A 9' string of outdoor lights was $28 instead of $49 and some rather awesome, mod set of 2 outdoor wall lights that retail at $148 were just $36.
A "Kiss Me" mug was $2. A Posit jumprope was $4.95 instead of $14 and a lift up, Songmics  jewelry case was $25 instead of the $44.09 on Amazon.
The store I visited ( Montebello) was small enough to see everything in 20 minutes and large enough to hold a nice variety.
Electronics come with a 30 day return policy. The caveat here is that a few items had blemishes.  So like all discount outlets, you should examine everything.
Turn around here is pretty fast. I would definitely pop in once a month to see what new or can see some of their items on the Offer Up platform.
The Kanstar Outlet Stores are terrific, fun new outlets for Bargain Hunters to enjoy and save!
Kanstar Outlet Stores has several locations but only one phone # (626) 242-0399
516 W. Whittier Blvd., Montebello, CA 90640
2628 E. South St., Long Beach, CA 90805
1241 E. La Habra, La Habra, CA  90631
1208 W Francisquito Ave, West Covina, CA 91790
1107 Mountain Ave, Monrovia, CA 91016                        
Payments are only Cash/ Venmo or Zelle.
Tell 'em BargainsLA sent ya!