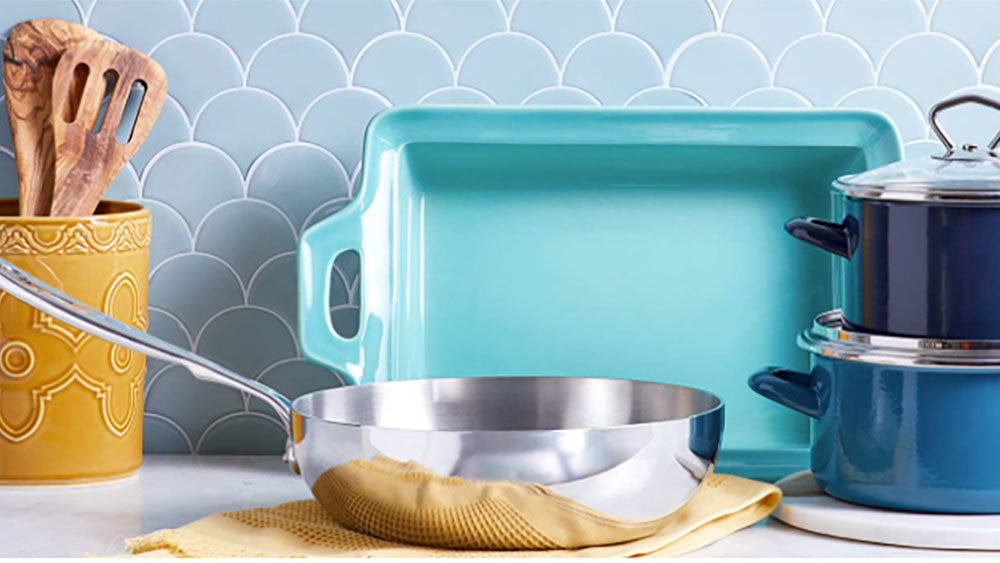 September 29, 2021
The HomeGoods online outlet store has discounts 25-65% off original retail on home decor, bedding, bath, dining and more!
If you shop their Brick n Mortar Outlet stores, you'll enjoy their new online outlet as well!
Set up like nearly every other online outlet you can scan by category, signup for email alerts etc. You can also use your TJX Rewards Credit Card online.
Testing their new site, I put a  Living by Robinsons 50pc Stainless steel satin finish flatware set at $49.99 instead of $70 in my cart. But shipping was $14.99. Then I removed the flatware set and  put some lightweight Farmhouse styled kitchen towels for $9.99 instead of $13 and shipping was also $14.99. Hmm… No real savings there except for the convenience aspect.
So the way to shop the online outlet is to buy $120 worth of goods so you can get FREE shipping. Perfect for towel sets, multiple bedding sets, dining sets etc. But for just a couple of items, I'd stick to the stores.
That said, It was fun cruising through the offerings.
A luxury Maurizio Italy 700tc jacquard sheet set rain $129.99-149.99 instead of $200-250. Hotel Balfour Towels were $6.99-$12.99 instead of $10-20. A Tahari by ASL 3 pc Hunter Comforter set was $59.99-$69.99 instead of $84-$98. Some Cynthia  Rowly $pk of textured chair pads was $29.99 instead of $43. An Irish merino wool throw that was $120 is $69.99 and a Silga Spa Stainless steel 8 qt Casserole was $69.99 instead of $117.
The most obvious difference between the HomeGoods online outlet store and their brick and mortar is selection. Though there is a good selection online, there is always a massive selection in store.
For shopping fun and good hunt, Home Good's Brick n Mortar stores still rule. But for convenience, their online outlet really makes it easy to bag a bargain.