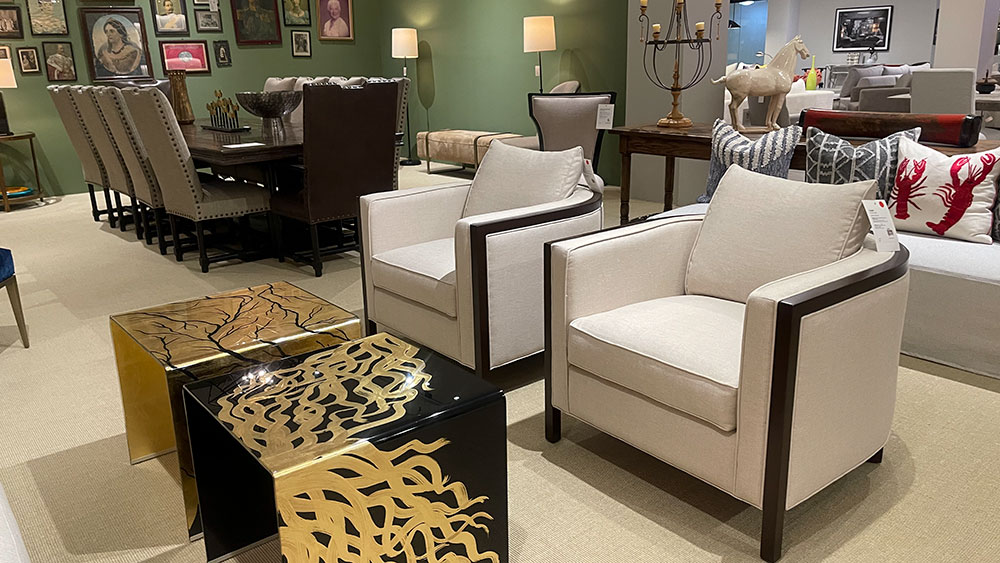 May 18, 2022
The Haptor Barrett Showroom Sample Sale has discounts of 40%-70% on some of the finest upscale, contemporary home furnishings you've ever seen!
If you love upscale furniture, then rejoice! This is your opportunity to get the very best for less!
Normally only available direct to professional designers and architects, now you, our BargainsLA family, can have access to these exceptional, upscale home furnishings at wholesale and below pricing. You'll find brands like Arteriors Home, Baker, Dellarobbia, American Leather, Hooker, Jonathan Charles, Kolkka, Nathan Anthony, Swaim, Theodore Alexander, and dozens of other upscale furniture design houses.
You could custom order and wait up to 10 months…  yes, it really is that long right now! Or you can buy off the floor at spectacular discounts.
Haptor Barrett seeing the long wait, is now opening up the showroom samples to BargainsLA peeps at sample sale prices!
Incredible deals include  a 2 piece modern sectional by Dellarobbia for $7821 instead of $13035. A blue tweed / linen modern sofa that was $9006 is $3999. An incredible long dining table with 8 upholstery nail trimmed dining chairs is $10,000 instead of $35,000…. a 70% savings! I adored a really long (152"), Taylor King green velvet sofa for $6000 instead of $12000 and a tall glass and metal etagere that was $1300 is now $495.
I fell in love with a blue velvet, nailhead trimmed sofa. Originally $11,800, it was now $5900.   A Chaddick custom oak modern dining table that was $16,600 is now $9900 and a Mary Macdonald regency upholstered bench is $2068 instead of $4125. A Theodore Alexander Paxton arm chair was $2000 instead of $5000 and a large square glass & metal coffee table by Kolkka was $2000 instead of $5000.
There was plenty of unique modern lighting. I spotted some cool, black spikey Kelly Wearstler wall scones at  $270 instead of $675 each. And a floor lamp with a minimalist handblown glass shade was $125 instead of $300. All accessories & lighting is 50% off.
There's  a great selection here. You don't need an interior designer to shop it either.
But you do need to call and make an appointment. Tell Greg, BargainsLA sent ya!
Haptor Barrett Showroom
1933 S Broadway #1046
Los Angeles, CA 90007
Open by appointment M-F. 10am-5pm.
Parking is validated, delivery additional charge.
Cash/ CC.