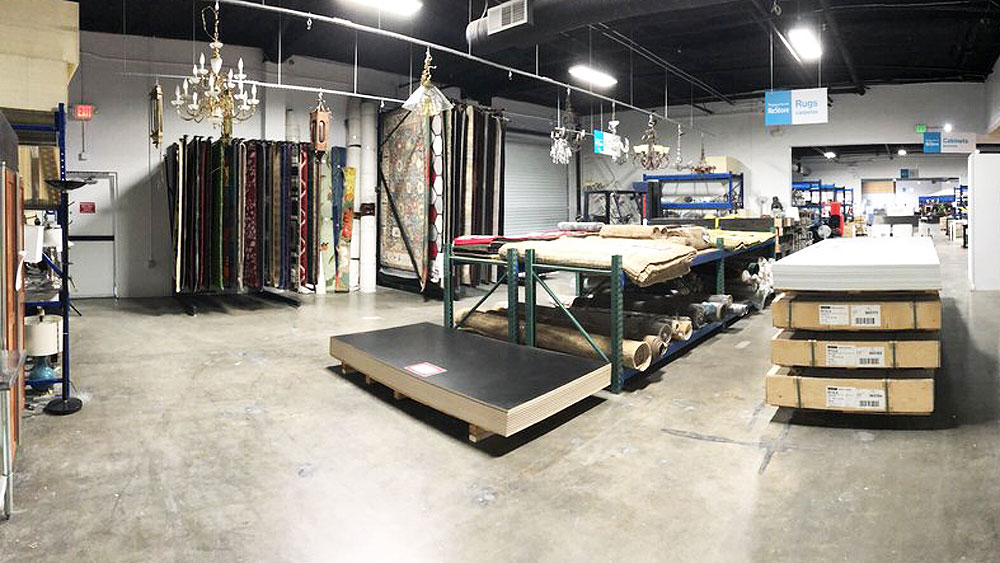 September 09, 2020
If you are an intrepid bargain hunter, have home improvement project or are a fix it yourself kinda person, then you must already know about Habitat for Humanity Restores. With over 10 stores in Southern California, this home improvement outlet has new and used surplus building materials, supplies and home furnishings at 50-70% off.  We always pop into one when we see one… cause ya never know what goodies you'll find.
On our break in Murietta this last weekend we popped into their new design center in Temecula. This well organized, clean store had a boat load of brand new home furnishings in at 50-70% off original retail. OMG!!!
Great buys included a mod ceiling chandelier with large a cylindrical shade by Progress Lighting was $10 instead of $224.46. A 6 drawer dresser by Universal furniture was $268 instead of $1355.. A mod chrome & fabric bar stool was $40 instead of $162. A blond wood pedestal table / leaves and 4 chairs that retailed at $1311 was now $500. An amazing mid century design low Tv Console was $359 instead of $898.  A linen settee with nailed detail was sweet at $366 instead of $917.
There were some lower-end pieces here too, perfect for dorms, guest rooms and first time apartment dwellers. A stunning US Pride loveseat in a yummy cranberry that was $291 is here at $116. A Blue tweed sofa that was $593 is $237 here. A upholstered tufted head board was $185 instead of $360.
These pieces will go fast!
Habitat ReStores are famous for having both new and used surplus building materials donated by building supply stores, contractors, demolition crews and individuals. Generally, the products here range from door knobs to doors, sinks to lighting, windows to hardware, flooring and almost anything in between, all at prices that are 40%-70% below what you would expect to pay. Proceeds from the ReStores help fund the construction of Habitat houses within the community.
Since the items are donated, each store carries different product. One store may have more doors than another or more used product than another. But the deals are here and if you have a good eye, some creativity, a measuring tape and handy know how. You'll Habitat Restores have locations all over the United State and Canada.
Habitat Restores/ Builders Surplus Stores:
The store I visited:
28410 Vincent Moraga Dr, Temecula, CA 92590
Other Locations:
1656 West Katella Ave., Anahiem, CA 92802  (714) 434-6266
2140 Ritchey St., Santa Ana, CA 92705 (714) 434-6266
5201 W. San Fernando Rd., Los Angeles, CA (818) 550-7467
1071 S. La Brea Ave., Los Angeles, CA 90019 (323) 421-3700
18600 Crenshaw Blvd., Torrance, CA 90504 (310) 818-5222
25948 Business Center Dr., Redlands, A 92374
8739 E. Artesia Blvd., Bellflower, CA 90706 (310) 818-5224
2215 Huntington Dr., Duarte, CA 91010 (
2111 Bonita Ave B, La Verne, CA 91750 (909) 596-7098
4609 Holt Blvd, Montclair, CA 91763 (909) 399-0202
2180 Iowa Ave, Riverside, CA 92507 (951) 787-6754
OC Habitat website 
LA Habitat website 
Tell 'em BargainsLA sent ya!