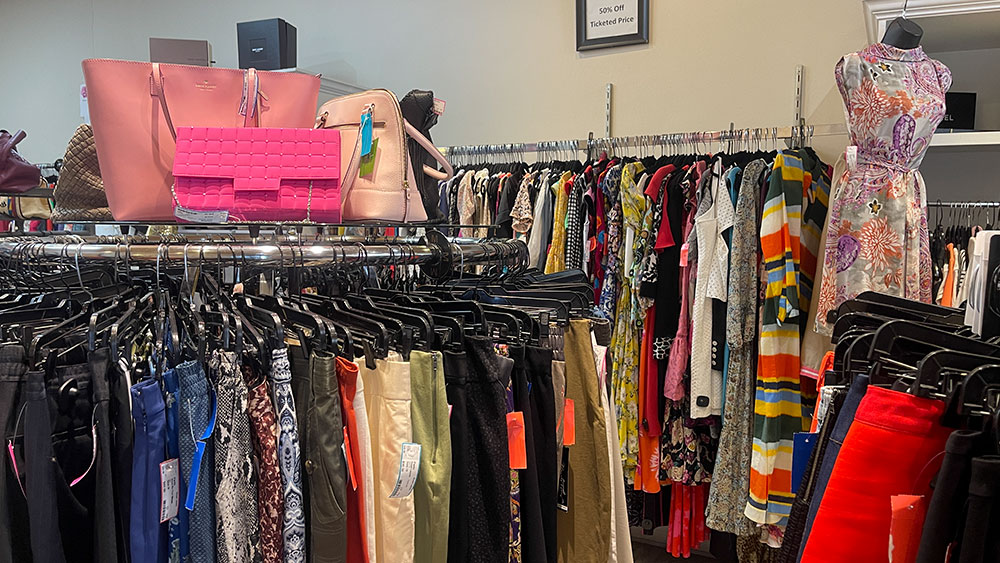 August 10, 2022
Great Labels Luxury Consignment Boutique is a boutique style resale shop with discounts of 40-85% on women's designer clothing & accessories. This Santa Monica staple has been a fashion resource for stylish bargain shoppers for decades.  For good reason too. Their great in-store staff along with a fun upscale collection of designer goods makes this place a joy to shop.
Always start  your shopping foray in the back with the sale racks. Here I found some Tory Burch evening shoes for $17 instead of the original $200.  Some Madewell rainbow sandals were $10, marked down from $40 that were originally $98. A Tahari Linen jacket set was $36 marked down from $78 that was $149.
As I roamed around I became obsessed with a blue & white floral Maxi " Bardot" dress by Caroline Constas for $380 instead of $795. I also kept eyeing a Ralph Lauren silk chiffon maxi skirt for $66 instead of $185. A classic linen blazer by Theory was $98 instead of $230. A Frame pipe trimmed blouse was $66 and a blue blouse by Vince was $56.
The accessories & shoes selection was expansive and had some great deals too. A Cleobella large beaded shoulder bag was $98. A Mansur Gaviel cream embossed leather bucket bag was $300 instead of $665. Some Louboutin pumps were $336 and a playful pair of  Manola Blahnik suede color block shoes were $320.
There was also a wall of "Luxury" bags, but with my hubby accompanying me, and my ridiculous penchant for handbags, I shied away from investigating
A wall of dresses grabbed my attention with dresses from casual to evening intrigued me. I spotted a multi colored mod maxi dress by the Odell's for $56 and a Tory Burch colorful silk dress at $108. Then, I saw a sign that they were 50% off !!! Wow!
But I really lost it, when I looked at the rack of suits. I never, ever look at suits anymore. There were quite a few Escada skirt suits hovering around $330-$350. Beautiful crafted, impeccable details….In a word, GORGEOUS!  I think I must re-think suits.
The extra fun here comes from the "Spin the Wheel" for additional discounts from 10% to $25 off. Every time someone spun, we'd cheer them on!
It's great seeing a women's resale boutique thrive. You'll love this place as much as I do.
And your closet will thank you!
Great Labels Luxury Consignment Boutique   (310) 451- 2277
1126 Wilshire Blvd.
Santa Monica. CA 90401
Tell Andrea and Alexandra, Suzanne from BargainsLA sent ya!
Street / lot parking.