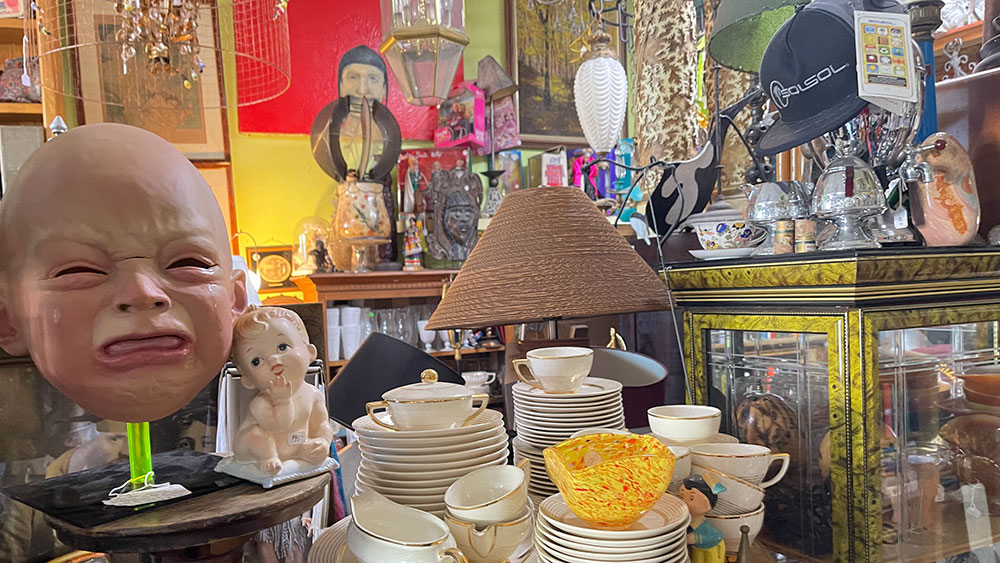 February 10, 2022
Eclectica is a fun, funky, packed eclectic thrift/ resale store with discounts of 10-60% below market pricing on home decor & furnishings, fashion, collectibles, Hollywood memorabilia and oddities.
This Noho store is a floor to ceiling conglomeration of epic coolness, delightful collectible junk and home decor treasures all rolled into one. I loved it the second I walked in.
Organized …it is not. But owner Mike is there to help with a sharp memory of where everything is and the colorful stories that go with them. He's totally in to Hollywood memorabilia. He's got a dinosaur head made by Jim Henson Workshop and a large crying baby head he got at Brook Shield's recent Estate Sale along with dozens of other collectibles.
Memorabilia aside, those of us looking for unique, eclectic home decor will discover many treasures at rather good prices.
I spotted a large, burled wood secretary desk for $800. Market value is $1200-$1800. An ornate gilded wall mirror was $95. I just priced a very similar one at $175 on Facebook Marketplace. A gold mirrored vanity tray was $35 instead of $45. A modern 3 light arc lamp was $200 without shades. Retail (with shades) is $450-$1500.  Two NWT Safavieh glass table lamps w/ out shades were $35 instead of $90. A marble top & backsplash, 1900's, Walnut wash cabinet was $175 instead of $400-500. A stunning pair of Gaetano Missaglia  1970's steel pendant lights were $2000 instead of $6800 and an Art Deco metal table center piece was $95.
I didn't really price the clothing, but on the way out, I spied a pair of gently worn Colleen Codera 40's inspired leather pumps for $85 instead of the average used market price of $150.
Caution, it is tight quarters here. There is cool stuff and piles everywhere, so watch your step. Mike is congenial, knowledgeable and will dicker a bit, so do try your hand at it without going overboard.
Those with patience, the willingness to hunt and a good eye will uncover great buys on super unique items…cause Eclectica is all about treasure hunt.
Eclectica
5663 Lankershim Bl.
North Hollywood, CA 91601   MAP
(323) 333-8421
IG: @eclecticanoho