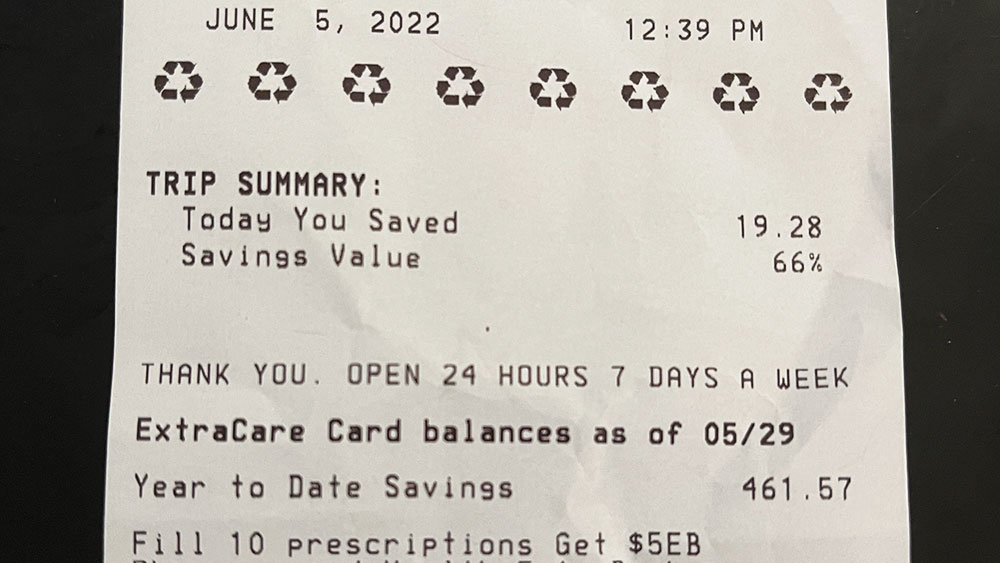 June 08, 2022
The CVS Rewards program  will save you 20-60% on every visit from over the counter medications to beauty products. After being members for the last 10 months, I am a total believer in this program.
Spending money at a drugstore chain is one of my least favorite things to do. But after my foot injury last Summer, we made a lot of trips there, spending way too much money.  It was my smart Hubby who decided it was worth the monthly expense of $5.
They do track what you buy through the program.  But I really don't care who knows I'm buying hair color or bandaids. Since the Pharmacy already knows our drug purchases, those meds are already tracked. What I do care about is bringing our bill down and this program really saves you a lot of money.
Here's why we love it.
First you get 20% off their branded product.  Plus you get rewards points (2%) for every dollar you spend that you can add to your next purchase, and then you can add in coupon discounts. And they do specials, do FREE shipping, have 24/7 Pharmacy help and same day RX delivery.
This week, I need some extra-padding in all my shoes, (Doctors orders). 
We bought the CVS brand insoles, like basic foam Dr Scholls, but at half the price. Then we got an additional 20% off that. But, if we bought 5 of them we got an additional  70 cents off of each. Since I have shoes, we bought 5.  Add a couple of Barnum's Animal crackers in and our bill should have been close to $60 but we paid $19.28. That's an average savings for us.
CVS makes it easy.
You get a weekly email with coupons available to you and you choose what coupons you want to apply to your card.  Plus, CVS has thousands of their own products, so there is a big selection from cosmetics to vitamins.  There's also additional coupons at the bottomof every receipt. Just think of all the things you buy at a drug store. Nail care, hair care, vitamins, shaving, candy, greeting cards, beauty items, medical products, home decor, small gifts, pharmacy and over the counter meds.
Since January we've saved over $460 at a cost of $30. Yep, it's true! Average savings run 35-65% on every single purchase.
With inflation kicking all of our back sides, if you haven't tried the program, you should give it a go. CVS has multiple locations in every city, so it's easy and convenient to shop there.
 
Right now they're offering a $10 monthly promo award and you can try it out FREE for one month.
Get more details and join here: CVS Rewards
FYI… we also shop at other drugstores like Rite Aid and Walgreens, but not near as often as we shop CVS, because of this specific program.