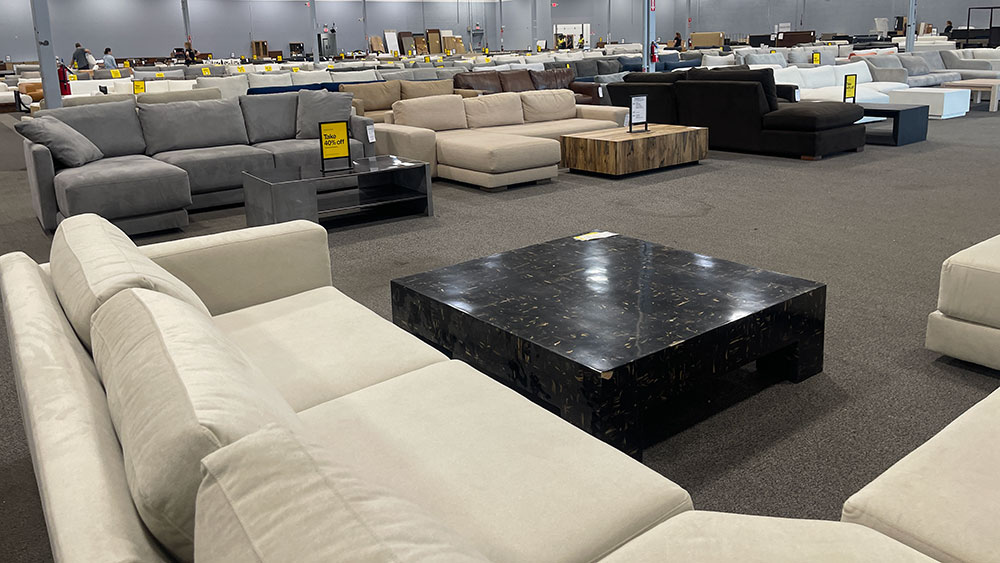 September 26, 2023
The Crate & Barrel Outlet has discounts of 40-85% on their signature home furnishings in sofas, sectional, chairs, cabinets, storage and more. Shop discontinued, freight damaged and customer returns.
Reasonably well laid out by type of furniture, this packed warehouse always has weekly additional discounts of 40-60% on the lowest ticketed price. They also mark down even more if an item is not moving fast enough.
Much of product here had small flaws or was visibly dirty or damaged. Most are easy fixes. These pieces are priced accordingly. That said, the deals here are excellent.
In perfect or nearly perfect, I spotted a Horizon 2-pc L shaped sofa that retailed at $3698 is $2218. A discontinued Tessa Marble top bar cabinet that retailed at $2999, was marked down to $1499, but is an additional 40% off at $899. A Keane King Canopy Bed was originally $1999 but is now 60% off at $805. A yummy green 9 x 12' rug that was $1599 is 60% off at $760. An Axis 3 piece leather sectional retails at $7400 was marked down to $6199, but is now 40% off at $3720. The Gwyneth Ivy Chair that was $899, but is here at $440. A Mota Bookcase was $1079 instead of $1799 and some crescent dining chairs were $60 instead of the original $349.
Furniture with small noticeable flaws or dirt included a Maren Olive Green and Cane 6 drawer dresser at $429 instead of $1099. A Cabria Extension dining table was $320. Matching chairs were $179. A very cool Nadia black cane bar stool was $179 instead of $449. A Gather armless loveseat was $1263 instead of $2099. The Sans Media cabinet was $1263 instead of $2499.
Their major flawed or visibly damaged product is discounted even steeper. Their Tate MCM bookshelf cabinet was $590 instead of $999 and matching wide walnut bookcase was $479 instead of $799. Both looked to possibly be missing a shelf. A Barrett lounger sectional in a grey velvet, with a fabric flaw was $1077 instead of $2149.
If you're a fixer upper kinda person, don't miss out on the Managers Specials.  Some very cool Tate MCM style walnut bar cabinets were $199 instead of $1199. Most the cabinet doors needed new hinges to close smoothly. The Bedford Queen trundle sleeper sofa was $783 instead of $3899. A stunning MCM Tate credenza had some very visible damage. At $185 instead of $1599 it could be a steal for someone who knows how to repair furniture.
The staff here is happy, friendly and very helpful.
You can keep up with their weekly discounts and goings on through the Instagram account. Everything here is sold "As Is" with "No Returns." Delivery is through a second party or by you.
However, this outlet will be closing in December 2023. They are planning to open another one, but haven't settled on a location yet.
The Crate & Barrel Outlet is great outlet for intrepid, resourceful bargain hunters to haunt for deals on home furnishings. At least, for the next few months!
Crate & Barrel Outlet
740 S. Pacific Coast Hwy.
El Segundo, CA 90245    MAP
Instagram
Tell 'em BargainsLA sent ya!