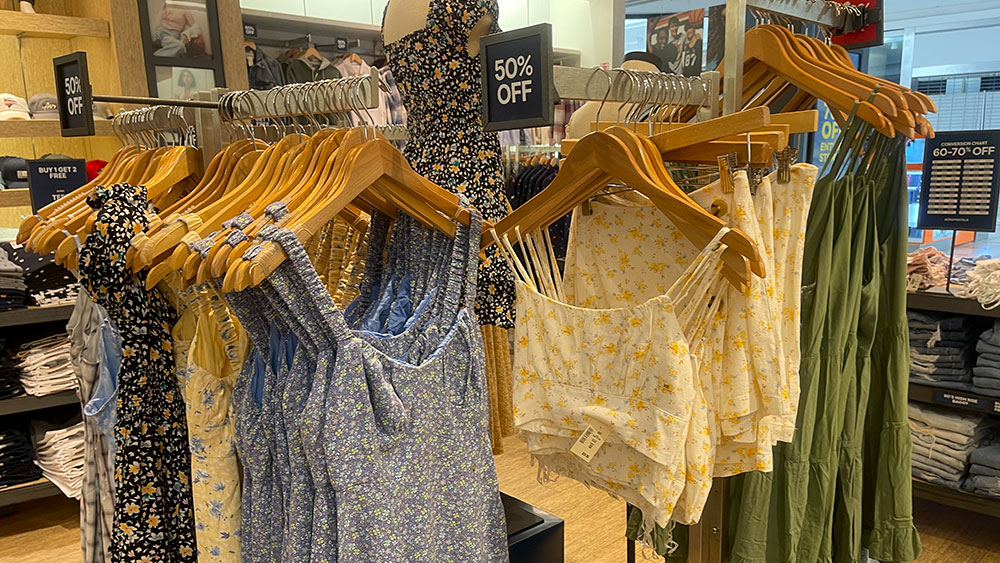 March 23, 2022
The Aeropostale Factory Outlet Store at the West Covina Mall has discounts of 40-70% all the time on trending men's and women's junior fashions.
Everything here is new, in season and is always discounted. When I asked the store manager if it was an "outlet", no matter how many different ways I asked, the answer was always, "No".
But they never sell anything here at full retail. So it is… but they say it isn't.
Regardless, it was fun discovering the fun fashion buys here at 40-70% below retail.
An off shoulder, gauze peasant crop top was $14.80 instead of $36.95. A plaid peasant tank/ blouse was tagged $44.95 but was 60% off at $18.13. A ruffled, peasant top was $16.21 instead of $38.95. A Plaid linen pleated mini skirt was $22.49 instead of $44.95 and a cheerful yellow floral crop top that was $34.85 was now $17.43
Young mens tops that were tagged at $38.95 were $19.99. Jeans were "Buy one, Get one"… so 50% off at $35 instead of $70. Sweat pants were 50% off of $49.95.
Persnickety teens can really drain your bank accounts. Between tech, education and fashion, the expenses pile up and are never ending.  But here, at least you can save on clothing.Clean, bright  and organized, it was easy to shop. Of course was the usual sweet, sales person trying to give some good service.
Here you can save on younger, trending, fun fashions. Sweet!
Aeropostale (Factory Outlet)
Plaza West Covina
466 Plaza Dr, West Covina, CA 91790
(626) 960-0507
Tell 'em BargainsLA sent ya!