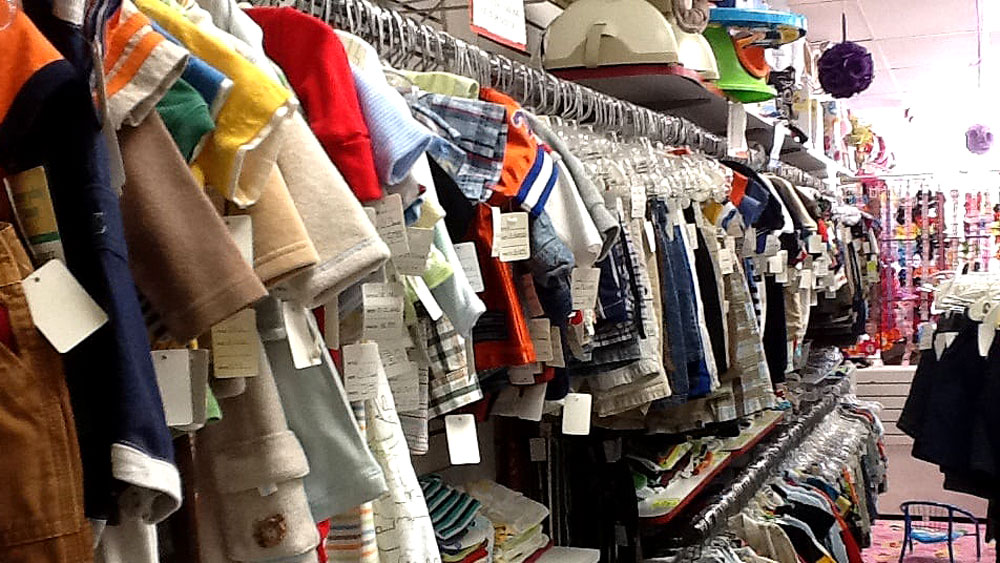 Childrens Resale stores are one of the best ways to save on children's clothing, toys, books and more. For parents in the San Fernando Valley, a good resource is Children's Resale Store, Wear it Once Wear it Twice children's resale in Burbank. This clean well organized store has new as well as gently used brand name clothing at 50%-90% off original retail. Open now nearly 10 years, I could tell the store had built a solid following with the steady stream of moms and kids coming in. With an excellent selection of boys and girls 0-12 and the good labels and pricing, I know why.
I spotted, Gap, Lands End, Zoey, OshKosh, Juicy Couture, Gymboree, Flap Happy, Carters, Izod, Ralph Lauren, Nautica, Hurley, Abercombie & Fitch, Roxy, Splendid Littles, Pumpkin, Limited Too, Catimini, Hello Kitty, Rare Editions, Old Navy, Childrens Place and more. Everything was in good to mint condition.
Some boys Hurley shorts were just $7.99 instead of the original $28. A girls Bossini cotton top was $5.99 instead of $50. Some girls London Blues capris were also a steal at $5.99. An infant FlapHappy dress was $3.99. A Ralph Lauren boys top was $9.99. A Juicy Couture dress was $9.99 and an infant Childrens Place jumper was just $3.99. There were a lot of shoes, hair ribbons and accessories. Some boys Hush Puppies were $9.99 and several pairs of Baby Gymboree and Gap sandals were $5.99-$6.99
They didn't have much in furniture but I spotted a cool selection toys, books, slings, carriers, exersaucers, chairs and baby accessories. A Balboa Nursing Pillow was $19.99 instead of $50. A Baby Bjorn carrier was $34 instead of the original $120. A Scrabble juniors was just $5.99.
This children's resale store buys outright, not all do. So here so you can bring in your kids gently worn clothing, accessories and toys and get some cash. Or trade for in-store credit and get 50% more! Either way, you win!
I started shopping children's resale stores when our daughter was born. I saved thousands of dollars on her wardrobe, toys, books, furniture etc. Considering it costs over 200,000 to raise one kid to age 18, saving money is important, no matter what income bracket you're in.
Mention BargainsLA.com at check out and get $5 off your purchase of $25 or more.
Wear it Once, Wear It Twice
1725 W. Verdugo Ave.,
Burbank, CA 91506
(818) 558-4006
Cash/ CC
Street parking