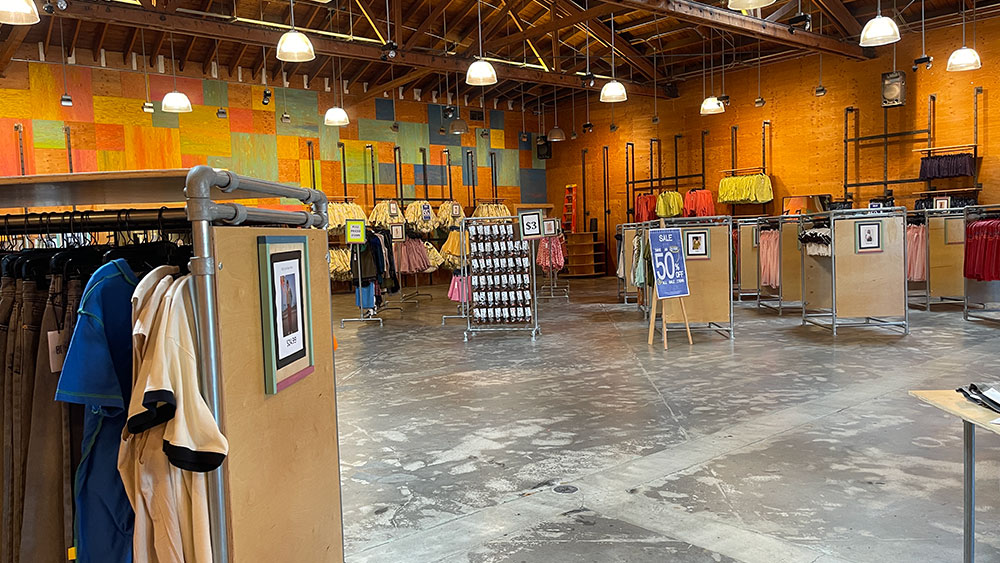 October 25, 2022
The Urban Outfitters Surplus Store in Sherman Oaks has discounts of 50-90% on women's and mens clothing and accessories.
It's currently the only outlet for Urban Outfitters in the United States. A staple of the Sherman Oaks shopping district, this long time fashion outlet has been the go to for Millennials and Get Z budget savvy fashion shoppers for over a decade.
During my recent visit found only 50% of the store stocked. When asked, they said they were trying to get more product in for the Holidays. But they were in the dark on what was really happening.
There were only 2 racks of mens items. Mostly mens jeans and cords priced at $20-24 instead of $69-89. Some mens cut off jean shorts were $20 instead of $59.
I turned around and found an entire shelf of classic checkered Vans in women's size 5 / mens size 3.5 for $25 instead of $55. If you have a small foot or have a kid, this is a great deal!
The women's racks had several styles on each rack and prices were between $5-$20 instead of $39-$120. Lots of last season goods. A rack of eyelet tops was $15 instead of $50. A floral mini dress that was $119 is $25.  An Urban Outfitters bingo tee shirt was $10 instead of $39. But they only had it in an Olive green.
A super cute, boho leopard print women's crop top was $9.99 instead of $55. A women's multi color v-neck top was $15. Some zippered mini skirts were marked at only $5 but were 50% off of that! Their Charlie knit mini dress was just $10. Some basic women's undies were $5 for $25.  A V neck floral romper was just $15 instead of $79 and a blue wrap, Chandler dress was $15.
With real deals like these, it's worth a pop in. I was delighted with my Vans for just $25. Wouldn't have found them had I not popped in.
This hot fashion outlet is a bit thin on inventory. That said, I wouldn't pass it by if I was in the area. There are several worthy resale thrift stores in the area.
Urban Outfitters Surplus Store
14608 Ventura Blvd.
Sherman Oaks, CA 91403     MAP
(818) 789-3604
Metered street parking
Parking lot $$$$
Tell 'em BargainsLA sent ya!