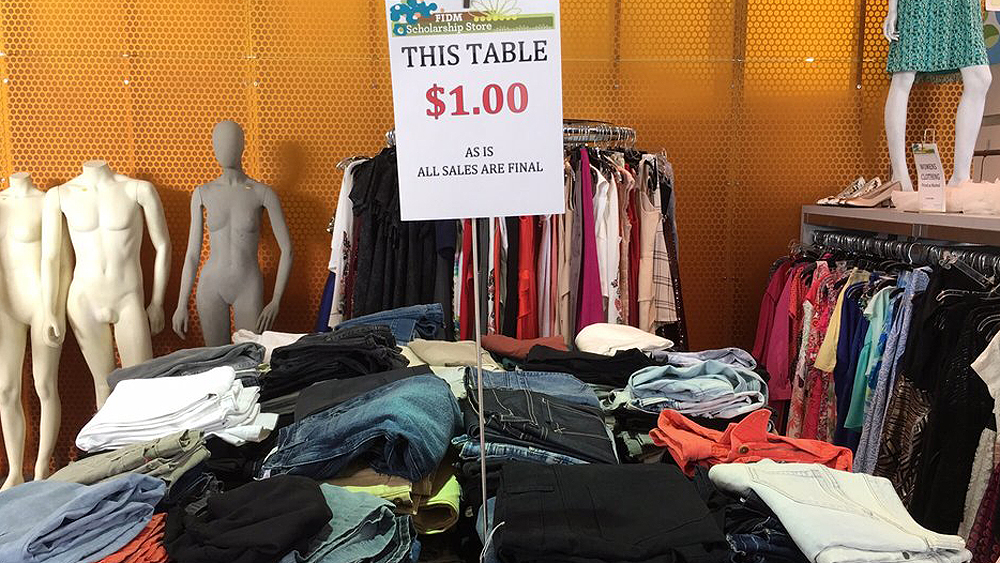 The FIDM Scholarship Store is a designer fashions discount outlet with savings of 60-95% on donated designer fashions.
Famous designers, boutiques and department stores support the scholarship foundation for the school by donating the inventory here.
The selection here changes literally daily with jaw dropping deals on men's and women's tops, pants & jeans, jackets, dresses, gowns, shoes, swimwear, skirts, tees, jewelry, accessories and more.
To help keep FIDM's promise to the designers that donate, I cannot mention any brand or designer names. But trust me, they are here from luxury high end to low end, all at prices that are below wholesale… 50-90% below retail. Items are new, but generally from past seasons in overruns, samples, seconds, odd lots and may include some with minor damage.
Great buys included men's Hawaiian shirts that retail at $70 for $5. Racks full of gorgeous evening gowns by a famous designer were priced at $100-$150 instead of $390-$1000. A peasant blouse by a famous Boho label was just $16 instead of $98. A tunic shirt by a women's brand sold at Neimans was $24 instead of $150. A high-end boutique label jean jacket was $80 instead of $350. A silk tunic top was $14 instead of $198. Men's designer jeans were a mere $14 instead of $150. Men's hipster trousers were just $5 instead of $37. Plus size women's clothes from a famous chain ran $10-$16 instead of $30 -$74.
The shoes and accessories are fun buys with fashion pumps at $12 instead of $35. Designer Princess flats were $25 instead of $250. Jewelry ran $1-$10 that should retail at $10-$35. And in the back room you'll find designer fabrics at $1-2 a yard! Wow!
While you visit, don't miss their free museum with ongoing fashion exhibitions. Always exceptional and not to be missed!
The FIDM Scholarship store is popular with "in the know" downtown residents who know a great designer fashions discount outlet when they see one.
With discounts of 60-95% on donated designer fashions, you'll be a fan too!
FIDM Scholarship Store
919 So. Grand Avenue
Los Angeles, CA 90015   MAP
213-624-1200, ext 2617
M-Sat. (10am-5pm). Closed Sunday.
Cash/ CC
Parking lots ($) and metered street parking