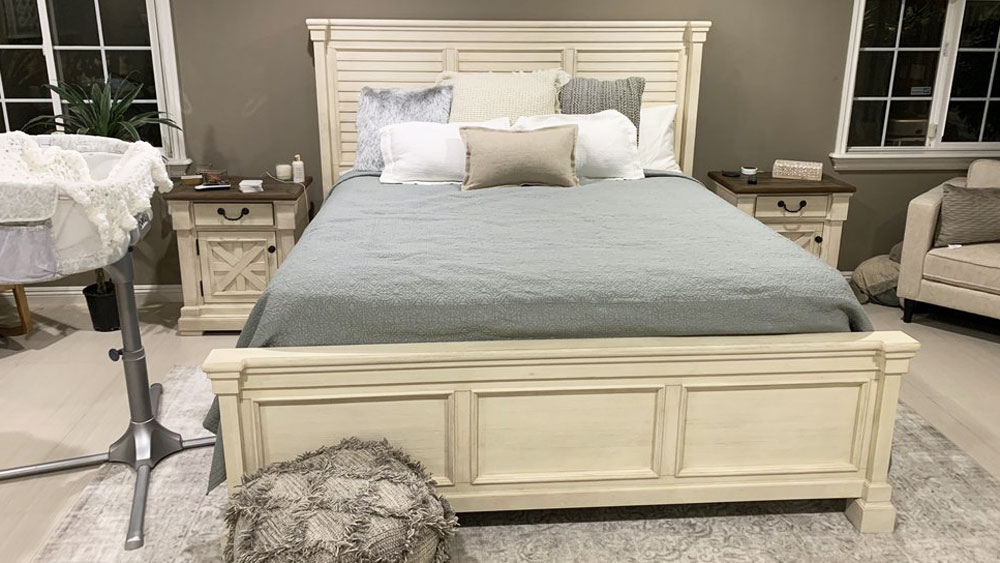 June 24, 2019
OMG! The Restoration Hardware Outlet has real savings of 20%-80% on their past seasons remaining product, floor models, customer returns, scratch & dent, overstock and discontinued product. You'll find chairs, dining, sofas, chests, bookcases, beds, patio, cabinets, bedding, rugs, gift items and more here. So if you're a fan of their designs, you may go a little bonkers.
Pricing discounts here are based on their higher end retail store prices. The longer an item is on the floor, the lower the price. But the good items will move fast.
Near the Aquarium of the Pacific, The RH Outlet will give you 90 minutes free parking with validation. Or plan on paying $3-$10 to park or eating at Bubba Gumps to get a discounted rate.
The area outside this larger store is packed with discounted upscale patio furniture. I spotted a rectangular 84" outdoor metal dining table at $832 instead of the original $1665. A Wood weathered chaise lounge was $1119 instead of $1865. A Belvedere Luxe Lounge Chair was $693 instead of $1155 and a 2 seater love w/ cushion in a wicker/ resin was $477 instead of $795.
The interior showroom is also packed with a huge variety of discounted home furnishings. A Churchill leather Club Chair that retailed at $2045 is $1636 here. A black, Vienna King Bed was $798 instead of $1995. A St. James Queen Sleigh bed was a steal at $778 instead of $2595. A twin Belgium Iron Panel bed was sold out from underneath me at $345 instead of the original $695. A discontinued Marceile 4 drawer dresser was $769 instead of $1099 and a Collins Leather sectional was $5747 instead of $8210.
A 120" Trestle table was a super sweet buy at $898 instead of the retail of $1795. A French Casement media console that retailed at $2395 was here at a much more affordable $1197 and a Clemson Pendant chandelier was $289 instead of $2000.
There were some bathroom hardware pieces here as well. A mirrored bathroom Wall Cabinet was $251 instead of $629. A Bistro Train towel rack was $118 instead of $169. A Glass Pharmacy retro free standing cabinet was really cool at $1016 instead of $1465 and a Soap and Lotion caddy was $14.99 instead of $19.95. I also spotted a good selection of bedding, linens and sheets at an average of 25%-40% off.
There are some really nice, knowledgeable help here, so you're not on your own. But this isn't a place to dawdle. Items move pretty fast. If you see something you like and are hoping for the price to go lower, ask the sales staff first before you leave.
The Restoration Hardware Outlets are a must haunt if you're looking for furniture. Have your measurements and color swatches at the ready, so you can pounce on that special deal!
Restoration Hardware Outlet
81 Aquarium Way, Suite F 120, Long Beach, CA 90802
(562) 246-3830
Cash/ CC
All Sales Final
Restoration Hardware Outlet
11136 Jefferson Blvd, Culver City, CA 90230
(310) 730-7374
Restoration Hardware Outlet
16181 Lake Forest Dr, Irvine, CA 92618
(949)585-0015
Restoration Hardware Outlet
1931 Ventura Blvd., Oxnard, CA 93036
(805)445-7707