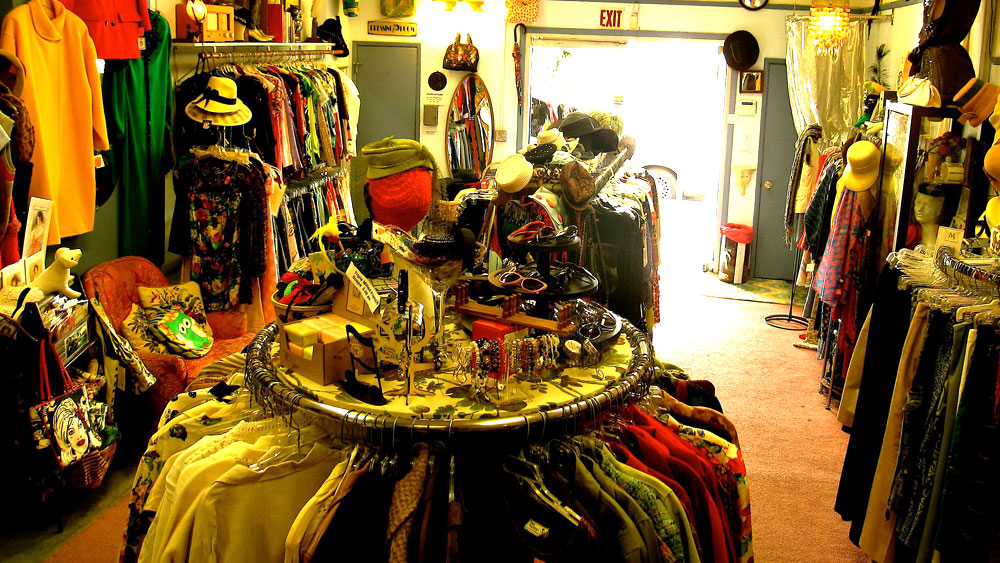 April 15, 2019
April 5, 2019
Women's Vintage clothing shop, Owl Talk is a quaint, unpretentious family run vintage / resale clothing shop which has continued to outdo itself with solid buys on women's vintage apparel. Their eye for quality, livable fashion design, makes for a great selection of vintage apparel…. All very well priced at 25-70% below market.
I spied dresses, shoes, boots, handbags, jewelry, sweaters, jackets, coats and blazers from a huge variety of designers, name bands as well as unknown labels. With items from 1930's thru the 1990, there a wild variety of pieces.
As my daughter got busy shopping, I took over a nearby rack and found a ruffled loose knit cardigan sweater by Next Era Couture for just $14. A Free People Dress from the 1990s was a stellar buy at $24. An unbelievably cute, Sookee Polkadot wrap coat was $28. A 1980's Jaeger blazer was $38. A 1960's custom cream and tulle cocktail dress was just $26. A Wild Rose maxi dress from the 1980's but cut like from the 1940's was $45. An Oakwood Lambskin leather car coat was $46. A Versace man tailored shirt was $22. An Ethereal gauze blouse was $18.50 and a 1940's beaded rayon dress was $65.
Accessories and shoes are too much fun here. A green felt brimmed hat was $14. A 1990s Michael Kors leather handbag was $32. A Faux Cinnabar bangle bracelet was $24. An amazing Mexican silver & Onyx bracelet was $200. An elegant beaded velvet evening wrap was just $14. A near mint cinch waist leather belt was $14. Some Charles Jordan sling back pumps were $28. Some Ellen Tracy leopard print pony hair flats were $24. A most coveted pair of Delman suede pumps were $48 and a 1990's Dooney and Burke Handbag in great near mint condition was $46.
This is vintage , so like resale you should look over every garment to find any flaws.
I had so much fun talking to management that I missed trying on anything. My daughter, on the other hand, tried on all sorts of goodies. She left with the Free People dress and the cinch waist leather belt. I'll have to return on my own with some extra time to try on and play.
If you love vintage, this great Women's Vintage clothing shop should be on your radar. Well curated without pretense. It's a gem of a find.
Owl Talk
5060 N Eagle Rock Blvd, Los Angeles, CA 90041
(323) 258-2465
Hours: Mon-Thurs. 11-7
Fr.-Sat. 11-6
Sun. 12-4
Metered street parking
Cash/ CC.
OwlTalk.com