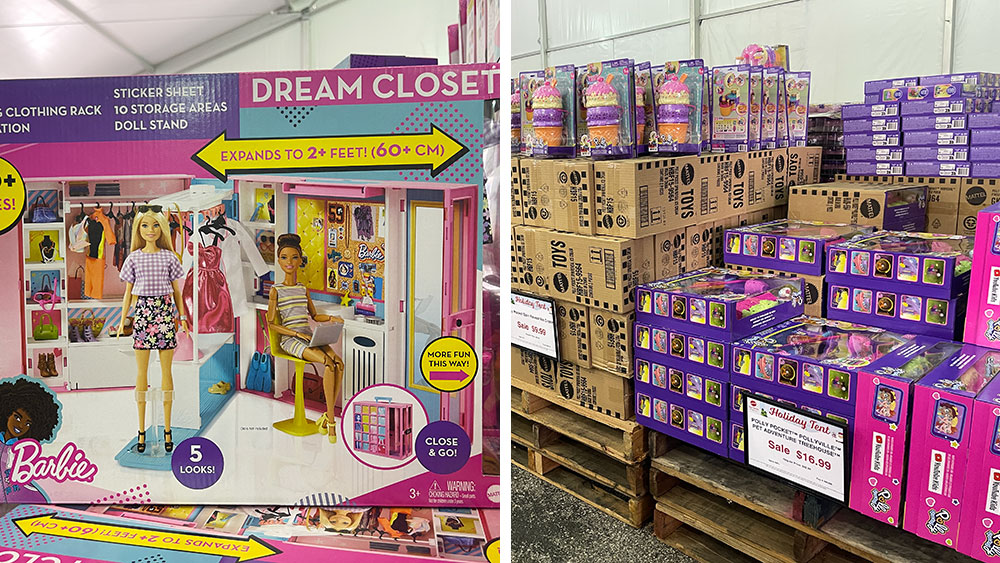 November 02, 2023
The Mattel Store Tent Sale has discounts of 30-75% off Mattel Toys. The store itself has some items at 50% off, but most items are retail. However, the real "eye popping" deals are in the Tent Sale in El Segundo.
Open now thru December 23rd, you find thousands of items in Barbie, Hot Wheels, Halo, Polly Pockets, Pokemon, Monster Truck, Masters of the Universe, Fisher-Price, American Girl and more mostly at 50% off or more.
Barbie enthusiasts will have a field day! There's tons and tons of it. From single and collectible barbies to play sets and accessories.
Standout buys included Barbie, Photography dolls for $3.99 instead of $11. Barbie, Extra Play Sets that were $30 are $14. Barbie Bakery Play Sets are $14 instead of $34. Barbie Dream Closet is $20 instead of $50 and some Barbie Dream Campers are $378 instead of $539.
I was delighted to see some Polly Pockets. Spin N Surprise Birthday play sets were $11 instead of $25 and Pollyville Pet Adventure Treehouse was $17 instead of $43.
Matchbox Moving Parts 6 packs are $10 instead of $20. Hot Wheels Mega Constux Mega Wrex Monster truck are $10 instead of $20. Hot Wheels Monster Trucks Swamp Chomp play set is $10 instead of $19. Hot Wheels Monster Trucks, Bigfoot was $30 instead of $80. Hot Wheels Spin Storm Track sets were $25 instead of $59. Mega Hot Wheels Mod Rod was $20 instead of $59 and Hot Wheels Jurassic Park character cars were $9 instead of $20. Mega Halo UNSC Hornet Recon was $11 instead of $27.
Other great buys included Power Wheels Willy Jeep at $224 instead of $320. A Jurassic Park Thrash N Devour T-Rex was $20 instead of $50. Minecraft Creator series figures are $5 instead of $10. Mega Pokemon Pikachu Beach Splash were $4 instead of $11. Mega Construct Pokemon is $6 instead of $15. Mega Halo UNSC Hornet Recon was $11 instead of $27 and Mega Halo Ghost of Requiem was $6 instead of $15.
In the back corner was some American Girl accessories at 75% off including a Bitty Baby high chair and American Girls convertible sofa.
There is plenty of happy staff to help you here. But there are some caveats. There is a 50 limit purchase, per item.
There are no returns and they only accept Credit Cards. No Cash/ No Amex/ No Zelle/No Checks.
If my kid was still little, I would absolutely go nuts here!  I enjoyed watching several parents gleefully over loading their carts.
If you have a child in your life, shop this hot sale outlet NOW!
Tell "em BargainsLA sent ya!
Mattel Store Tent Sale (around the corner from the store, in the back)
333 Continental Blvd
El Segundo, CA 90245
(310) 252-3384
Open: Tues., Wed., Fr., Sat. 11am-5pm -Thru Dec. 23rd.
No restrooms.
The San Bernardino Mattel Outlet has everything at 50% off. Product is mostly freight damaged. Boxes are messed up, but the product is good.
1456 Harry Sheppard Blvd.
San Bernardino, CA 92408
Open: Th-Sat. 10am-5pm
(909) 382-3785