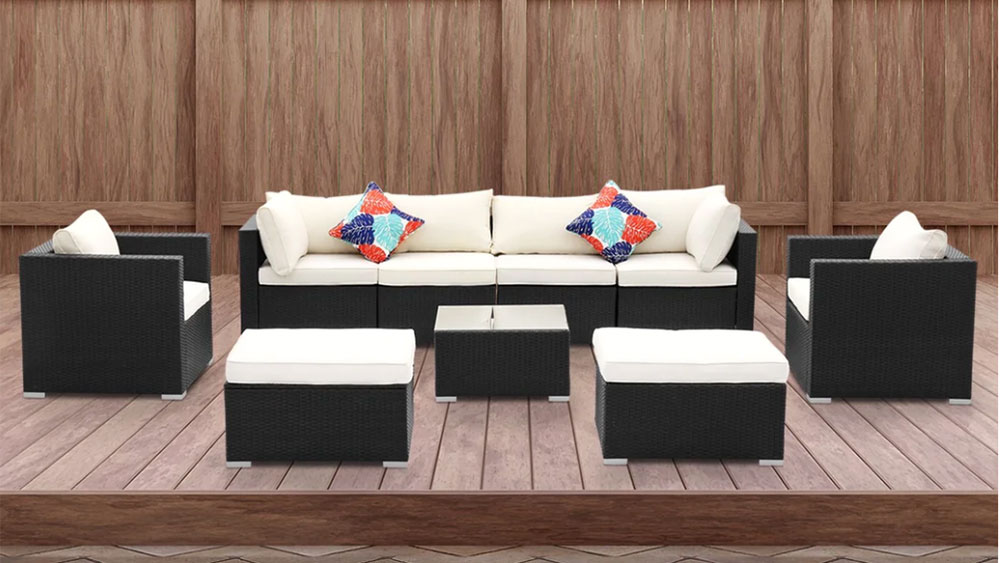 August 24, 2022
The MAS Factory Outlet has overruns and discontinued patio, furniture, household, camping weight equipment and more at 30-70% below retail.
As manufacturer / importer, you'll find their product at Lowes & Home Depot, Wayfair, Amazon and the like.  But here, it's a lot less.
The Outlet is located through the offices of their Factory Distribution center. This nondescript factory outlet is no frills shopping.  But it's a terrific bargain stop if you're looking for patio furniture deals.
Entering through the offices downstairs you'll find a smattering of different home goods, camping and odds n ends including a power tower dip station was $120 each instead of $220. A work out bench was $75 instead of $110. A really cool multi function ottoman that turns into a chase or sleeper was $195 instead of $386 at Home Depot. An orange outdoor Jimi mini grill was $95 instead of $140 and a rustic coffee table was $75 instead of $150.
Upstairs is mostly patio furniture and cushions. Lots of deals here!
A set of woven lounge chairs was $475 instead of $999. An 8 piece patio conversation  sectional sofa was $1295 instead of $1870. Another woven 6 piece set was only $550. Retail is $980. A 5 piece conversational set was $850 instead of $1470. A smaller 4 piece set with 2 clubs chairs, a love seat + coffee table was $295 instead of $795 and a 3 piece set of 2 chairs and a side table was only $95. Our favorite was the set of 2 rotating, round Papasan chairs with a center round table for $450 instead of $1100. Should have bought it.  They were so comfortable and fun to sit in.
The MAS Factory Outlet only has a small collection of their extensive line out on the floor. You can buy off the floor here or off their site. There are people here to help you, but they are mostly office & warehouse staff and not actual sales staff.
A sharp eye will spot the great deals here. A smart shopper will nab 'em!
MAS Factory Outlet
1800 E. Walnut Ave., Fullerton, CA 92831
MAP
(714) 519-3383
Open M-Fr. 10am-6pom, Sat. 11am-4pm
Cash/ CC
Free parking lot.
ShopMasOutlet.com
 Tell 'em BargainsLA sent ya!