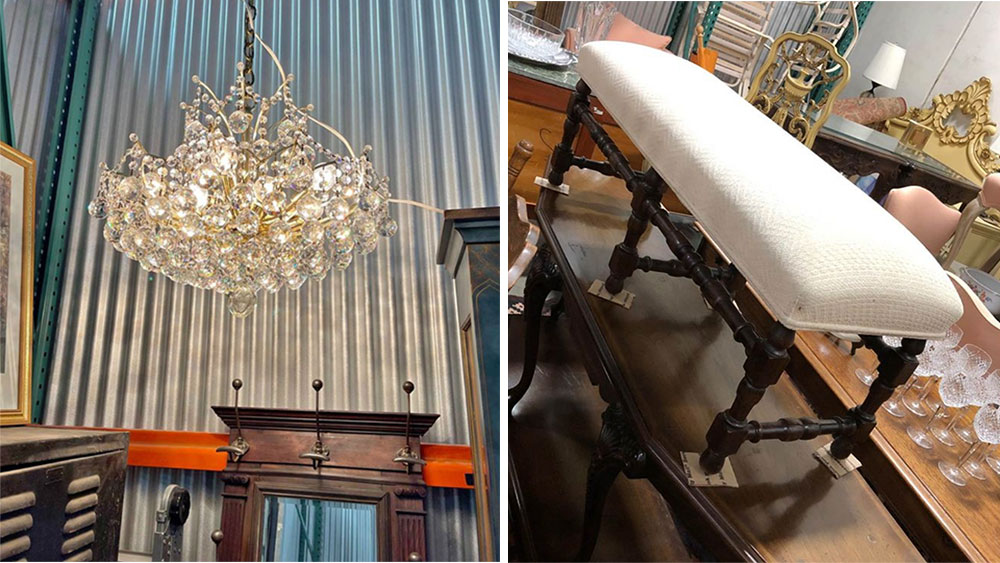 February 01, 2021
It's always fun to uncover a super secret Charity Outlet. M.M. Sacred Heart Children & Family Services runs an Estate Sale Warehouse Outlet with deals on vintage, collectible and antique home furnishings.
Hidden inside a Chatsworth Warehouse complex is fund raising outlet for trafficked children shelters. Run by the M.M. Sacred Heart Children & Family Services, you find a varied, unique collection of donated home furnishings, artwork, table top, lighting and home decor at 20%-40% below Market prices.
Open by appointment only during Covid, here you can shop vintage, Mid Century, contemporary and Antique pieces at Estate Sale prices.
I texted Don (one of the owners) for an appointment asking if I could come by in a specific time frame. Once I arrived, I had to call in again to be escorted since there is no signage as yet. Good thing I did. This newly converted manufacturing warehouse has been subdivided and I would never have found it on my own.
There are some unique deals to be found here.
A gorgeous Mid Century oval dining tale with 6 chairs was $600. Market in a consignment store would be $800-$1000. A 1930's Refectory table was $250 instead of $350. Two pink, down filled 1980's love seats were $175 each. All they needed was a touch up cleaning. An incredible, curved, hand carved Walnut buffet was stunning. Priced at $1200, it was at least 40% below market. A 1960's handprinted, marble top vanity / desk was $700. A Modern Cubist art piece was $250 and a John Widdicomb hand-painted cabinet was $500 instead of $1100.
A old metal tea cart was just $100 and a French Provincial dresser was $450 instead of $600-$700. A 19th Century, Victorian Dentist Cabinet was $6500. I spotted one on Pamono for $7379. There were many unique pieces in decor, crystal, flatware and dishwater reasonable priced.
But the best part atthis Estate Sale Warehouse Outlet is that everything here is negotiable (within reason) and BargainsLA peeps get an additional 10% off! The asking price is a starting price.
Not too big and not too small, it's got just the right amount of product to peruse within 30 minutes. If you're really into hunting for that perfect piece, this little gem should be on your "go" list.
A surprising lovely, well lit warehouse with some substantial saving supporting a need in our community.
M.M. Sacred Heart Children & Family Services Warehouse Outlet
21350 Lassen St. Unit A-4
Chatsworth, CA
(661) 388-9844
(818) 292-0517 (Don's mobil)
Open most weekdays and Saturday. Call / text for appointment.
Easy Free parking lot.
Mention BargainsLA sent ya and save an additional 10%!
About M.M. Sacred Heart Children & Family Services