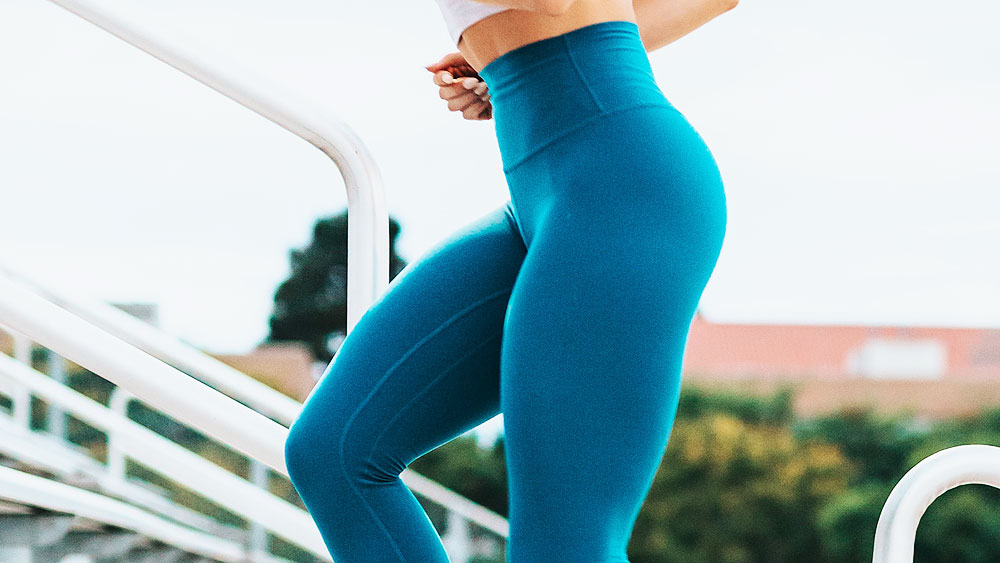 The Lorna Jane Outlet Store is a fitness fashions outlet with discounts  of 20-60% below retail on women's fitness, workout and yoga clothing.
This fitness fashion outlet is hard to miss. Because it's in a big pink building , which also happens to be the Aussie brands USA headquarters. Here you'll save 20-60% here on  Lorna Jane past seasons overproduction in tops, bottoms, leggings, bra tops and more.
Famous for their quality construction and fit, runners, cross trainers, boxers, cardio barre dancers and  hot yoga enthusiasts who want the very best, want Lorna Jane.  Their famous work out wear is highly sought after.…. And you don't have to wait for a Sample Sale to get them for less!
As you enter, you'll see one wall with their basic line which is priced at retail. But the rest of the store is discounted.
The steepest discounts found here are on the seconds and samples racks. (Clearly marked on the tag.) Some tight black shorts for $30 instead of $69. A LS top was $25 instead of $75. Some ¾ leggings were $40 instead of $99 and sport bras ran $25-$40 instead of $69-$76.
The first quality overproduction isn't as steeply discounted, but there are some solid buys here. A zip up hoodie was $100 instead of $149. Their Track jogger pants were $60 instead of $104. Some ¾ leggings were $60 instead of $95. Leggings were $60-70 instead of $106-110. A body suit was $35 instead of $71. Their Night or Day pant was $60 instead of $99 and a zip up puffy vest was $110 instead of $143.
The store manager, Bella is as sweet, smart and has an engaging demeanor.  You'll be well taken care of.
Caveats:
Parking is seriously limited with only street metered parking  available. (They'll give you quarters!)
And they are only open weekdays 10am-4pm.
But, by the steady stream of shoppers coming in, I could see that most people think it's worth the effort to shop this fitness fashions outlet. I do too!
Here you will save on some really high quality fitness wear.  Cool, uhn?
Lorna Jane Outlet
1674 20th St., Santa Monica 90404
(800) 469-3897
Cash/ CC.
Tell 'em BargainsLA sent ya!