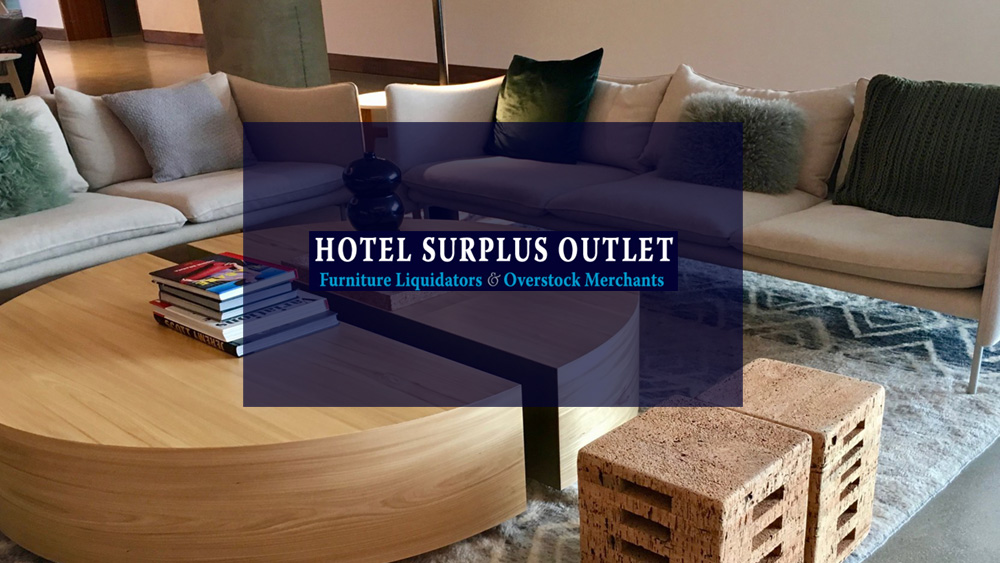 February 28, 2020
Need home furnishings? Sweet deals await you at Hotel Surplus Outlet with savings of 35%-70% on brand new and used fine home furnishings, fixtures, artwork, home décor and more.
This Hotel & Home Furnishings Outlet liquidates new home furnishings from upscale, design houses as well as and liquidating hotel furnishings from 4 star hotels across the country. The new home furnishings and brand new deals and the home furnishings from 4- Star Hotels run from mint to needs a little TLC but are offered at a fraction of the original price.
The fast changing, eclectic inventory includes dining sets, sofas, armoires, chests, home décor items, lamps, occasional chairs, tables, beds and bedroom sets, head boards and artwork … all at savings of 35%-70%.
Liquidated designer furniture goods included an upscale day bed that retailed at $800, is here for $425. A modern bamboo buffet/ bar was a steal at $399 instead of $800 and Shine Home mod dining table retailed at $2750 is here at $1759. A mirrored console table was $239 instead of $650. But, an Arts N Crafts dining set with 6 chairs was $1150 instead of $2500 and a top grain, leather sectional was $1150 instead of $2500 and some mirrored serving trays were $40 instead of the original $229.
You'll still find fabulous buys on hotel furnishings here. A dark wood coffee table was $199 instead of $450. Upholstered and artwork headboards run $10-$299. A sleeper sofa was $199. Artwork runs $10-$299 for prints and original works. An incredible large credenza from Le Montrose Hotel was a steal at $279. Retail would run $1500 or more! An Arte De Mexico chest was $149 instead of $750 and stacking banquet chairs are $14.95. You also find some table and room linens, patio furniture, mirrors, small refrigerators, and televisions at surprising deals.
Savvy owner Don Fenning buys up great deals from manufacturers, designers and hotel liquidations and resells them to the public for less.
He really loves BargainsLA followers and always gives the best, rock bottom prices to us. Mention BargainsLA sent ya and they'll pay the Sales tax! Sweet!
This Hotel & Home Furnishings Outlet always has the best for less!
Hotel Surplus Outlet
16625 Saticoy St.
Van Nuys, CA 91406
(818)787-7807
Hours: M-F 9:00-6:00 Sat-Sun. 10-5,
Amex/MC/VS/Cash/Checks