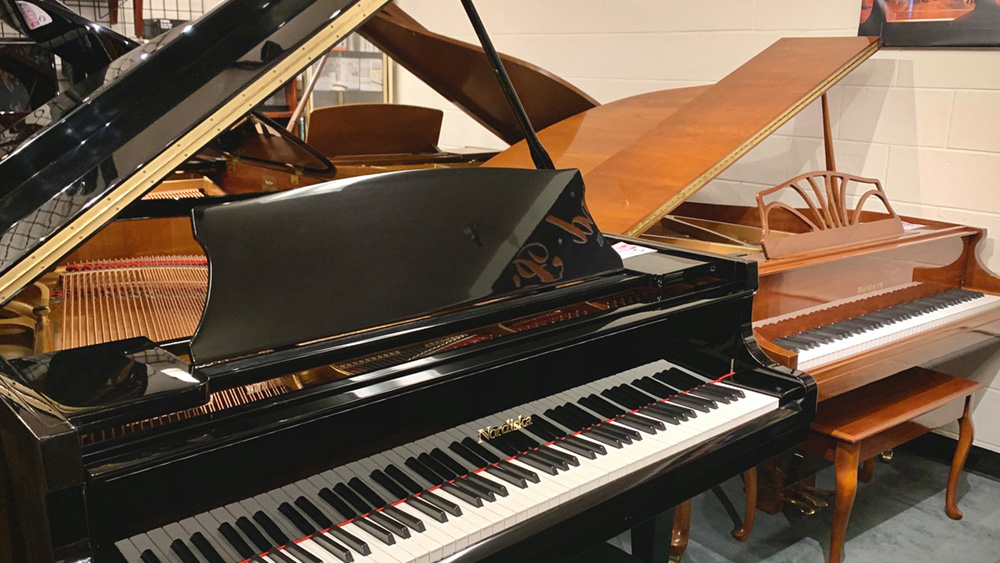 November 15, 2021
The Hollywood Piano Company sells famous, name brand, new and used Pianos and Keyboards at a discount of 20-75% off retail.
Their experienced experts will help you to find that special piano at the best price in Southern California. From uprights to concert grands, player pianos to digital, The Hollywood Piano Company has them all… at 20%-75% below retail.
Famous for their quality Pianos and Keyboards at a discount, over 30 major manufacturers can be found here. Like Kawai, Shaigeru, Petrof, Mason and Hamlin, Estonia, Samick, Weinbach, Technics, Pearl River, Yamaha, Casio, Story and Clark, Young Chang, Bernhard Steiner, Schulze Pollmann, and Steinway and Sons and more.
Piano deals are plentiful. Likea Kawai 45" professional studio piano which retails for $4,000, is here at $2,995. Or an exquisite Estonia 9' Grand at  $47,090 instead of $56,760. An Upright Pearl River,  is perfect as a family starter piano was priced at $2,995 instead of $5936 retail.
For the composer or performance artist Digital pianos are a deal here as well. For example, a Panasonic Technics Digital Piano, which the MSRP was $4167 is here for $1795. Or a George & Steck baby grand originally retailed at $10,995. But, here it's only $4,995.
Hollywood Piano has also teamed up with Radco Music Group, who specializes in the easy to learn, most enjoyable and most rewarding Piano lessons EVER offered!
The cheerful, highly trained expert sales staff will explain the attributes of each piano. Making sure to match you with the piano that is the best for you.
All this service and great prices, quality products and financing.
With so many Pianos and Keyboards at a discount , they have much to offer both to the novice and the professional.
The Hollywood Piano Company makes music easy and affordable for everyone.
One of Our Best Bargains!  Tell 'em BargainsLA sent ya!
Hollywood Piano Company
323 S. Front Street
Burbank, CA 91505
800.MY-PIANO
800.697.4266
Google Map
Factory Outlet and Clearance
2084 East Foothill Boulevard
Pasadena, CA 91107-3223
(626) 229-0999
Google Map
2800 N. Main St., Suite 280
Santa Ana, CA 92705
(714) 432-1100
MAP
Cash, Checks, MC/VS/AX/DS financing available
parking lot
Visit Site: Hollywood Piano